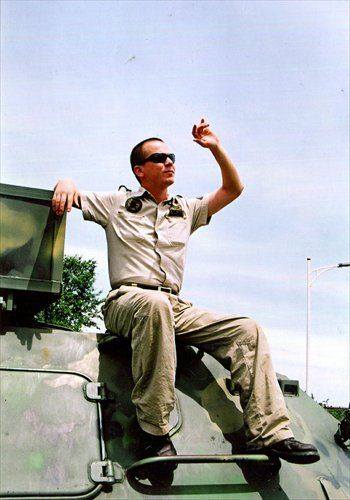 Perhat Khaliq
Among the many competitors that have taken part in The Voice of China on Zhejiang TV this year, the 32-year-old Uyghur known commonly as Perhat has probably attracted the most public attention. His deep voiced performance of the song, "Ni Zenme Shede Wo Nanguo" (lit. How you could make me so sad) on August 1, made the show's three judges take note, each trying to bring him into their team. One of the judges, Yang Kun, described Perhat's voice as "the most distinct voice that has come on The Voice of China these past three years."
"I don't have dreams, I just try to do things well," said Perhat when the judges asked about his dreams.
"Back in 1999, a friend of mine asked me where I would like to perform the most, and I said Germany. Ten years later, I really went there to sing. I've just kept playing and singing. It was the dream itself that came to me, rather than me chasing it."
Self-taught
Perhat Khaliq grew up in a factory area in Urumqi, Xinjiang Uyghur Autonomous Region. His father was an electric welder and his mother a worker in a plastic factory. When he was 6, Perhat started to play around with his brother's guitar. Without the assistance of a teacher, he ended up learning the instrument all on his own.
He told the Global Times that he loved to watch MTV programs on TV during the 1990s, when Western pop music culture started to flood into China. "I loved the foreign rock bands from that time, such as the Eagles and Guns N' Roses. I went to music record stores trying to find their tapes and learn about them according to the translations on the covers."
His fascination with Western music wasn't understood by the people around him, "Most of them were listening to local music and I was very interested in Western rock. I was eager to try and play this music myself."
In 1997, he founded his first band with all three members playing guitars. During the next year, a bass player and a drummer were added in. The teen band learned what they could from their favorite foreign bands, slowly forming their own style of rock. However, two years after it began the band members went their own way. In 2000, Perhat entered the Xinjiang Arts University to major in fine arts. During this time, he started to compose his own music trying out various music styles. In 2002, he was lucky enough to meet the woman who would later become his wife - also a singer with a beautiful voice.
With his wife, cousin and several other friends, he founded the band Qetiq in 2006. Though some members have come and gone, the band has accompanied him along his music career to this day. Before he attended The Voice of China, he earned a living performing with his band in several pubs in Urumqi every day, usually playing four or five songs at each place, including popular local folk songs and his own music.
When asked why he didn't try to develop his music career in some big cities like Beijing, he replied: "Many independent music producers go to Beijing and spend years there, but still nobody knows them. Most of my songs are written in the Uyghur language and have a strong local taste. They [my songs] were born here and live here."
Perhat isn't alone in his choice, Dao Lang, a singer famous for the song "The first snow in 2002" has also had great success developing his music career in Xinjiang.
Western popularity
The unique singing style that Perhat showed on The Voice of China led to mixed comments online. Some in the audience feel that his voice is too low and sometimes even out of tune, while others, including many music critics, see him as a very precious artist.
Perhat recalled that his singing style first formed in 2008. At the time he was not only looking to his favorite singer Bob Dylan, he was also trying to learn from other Western singers such as Canadian singer Garou and Russian rock band Lube.
"I use different voice to present different styles: rock, ballad or the local Dolan Muqam," he told the Global Times.
Compared to the polarized conversations going on among Chinese audiences, it seems Perhat's voice is more readily accepted in the West.
While performing as a singer in a pub in February of 2010, a German member of the audience was deeply moved and impressed by his voice. This individual helped Perhat contact The Morgenland Festival Osnabrück, a Germany based music festival that focuses on oriental music, and also invited Perhat and his band to perform in Germany that August.
"I always dreamed of going to Germany when I was a child after seeing beautiful pictures of German scenery in a calendar. I like playing soccer and Germany's team is my favorite. I also like the classical music there. I had been longing to go for so long, and I finally got the chance," he said.
After that, Perhat became a frequent guest at some European music festivals. Traveling there almost every summer, he recorded the Uyghur language album Rock from Taklamakan Desert with his band in 2013 during his time in Europe. The album contains four original songs and some covers of other Uyghur songs.
"There are many Xinjiang singers like Perhat in Europe. Their work combines Uyghur folk with Western rock and jazz to become a kind of international music. The interesting thing about Perhat is that his voice is not 'original,' but has acquired a taste from foreign rockers," wrote famed music critic Erdi on his Sina Weibo.
During his tours in Europe, he even once cooperated with the Osnabrück Chapel Orchestra.
"Performing with the orchestra in front of about 2,000-3,000 people put me under so much pressure. I didn't learn music professionally, and we only rehearsed once. After I finished my performance, I was so scared to see the audiences just sitting there silently. A few seconds later, they gave me some very loud applause, and the conductor turned around and hugged me," Perhat spoke excitedly as he shared his experience with the Global Times.
Now that his Voice of China appearance has made him well-known Perhat is thinking of translating some of his songs into Putonghua and introducing them to a larger audience.