'Kung Fu Jungle' sets date for premiere
2014-09-03 01:45:49 GMT
2014-09-03 09:45:49(Beijing Time)
Global Times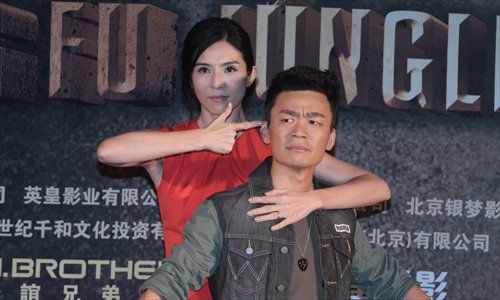 Wang Baoqiang (R) and Charlie Yeung
Five years ago, the film Bodyguards and Assassins, directed by Hong Kong director Teddy Chan, swept box offices and film awards. On Tuesday, at a press conference in Beijing, Chan announced that his next film after Bodyguards and Assassins, Kung Fu Jungle, is set to premiere in China on October 31.
The film, a 3D martial arts blockbuster, features a star-studded cast including Donnie Yen, Wang Baoqiang and Charlie Yeung.
About a struggle between police and a cold-blooded killer, the film's selling point lies in its dazzling kung fu scenes. Not only are the film's two main actors, Yen and Wang, famous for their kung fu skills, but several other famous kung fu stars such as Louis Fan and Yuen Bun are also in the film.
While a number of 3D martial art films have been made since Flying Swords of Dragon Gate ushered in the 3D era for martial art films in 2011, high costs have been a major issue. It's been reported that Kung Fu Jungle cost nearly HK$200 million ($25.8 million) to make.