Hu Ge and Joseph Cheng win People's Choice award at SDA
2014-09-05 10:00:32 GMT
2014-09-05 18:00:32(Beijing Time)
SINA English
Wang Ruiqi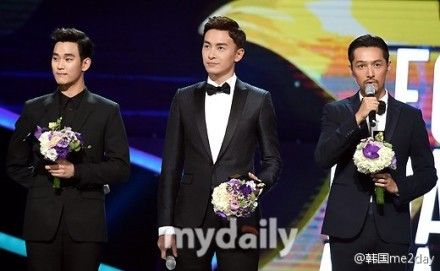 Hu Ge and Joseph Cheng win People's Choice award at SDA
Hu Ge and Joseph Cheng win People's Choice award at SDA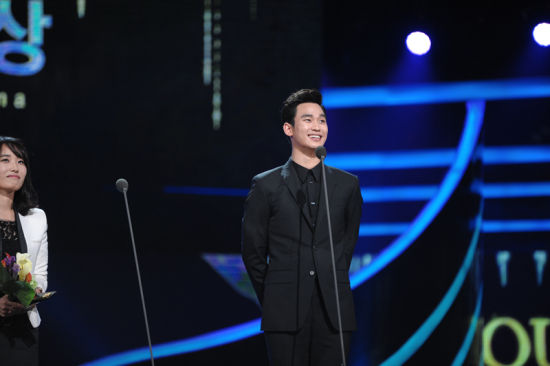 Hu Ge and Joseph Cheng win People's Choice award at SDA
The 2014 Seoul International Drama Awards (SDA) was held yesterday at the Haeorum Theater in Korea, where Chinese actors Hu Ge and Joseph Cheng(Zheng Yuanchang) won the People's Choice award alongside S. Korean hit actor Kim Soo Hyun.
Joseph Cheng, from Taiwan, said in his reception speech "It's such an honor and pleasure to receive this award in Korea. I am very grateful that many Korean fans still remember me. I hope next time I will present you with a new drama much better than 'Love Actually'".
Mainland actor Hu Ge thanked the playwright of "Life Revelation" for creating his character, which helps him make a step closer to a more mature actor.
S. Korean actor Kim Soo Hyun, who shot to fame in Asia with the hit drama "My Love from the Stars", says "I feel very happy to receive the award. The year 2014 is an unforgettable yet a very special one to me. I hope that from now on every year will be special. " When asked how he can feel the popularity of the drama in Asia, he answered "In other countries where I hardly know the cultures and languages, I can feel that I am welcomed when all the people are calling me 'Du Min Joon'(Kim's role in the drama)".
At this ceremony, the drama "My Love from the Stars" took home a total of three awards, including Kim Soo Hyun's Outstanding Korean Actor Award, as well as Excellent Korean Drama and Outstanding Korean Drama OST Award.
This year's grand prize went to "Kaboul Kitchen Season 2"from France, a drama that is highly praised for its originality, creativity and popularity. This is the first ever award for France.
The Seoul International Drama Awards, also known as SDA, is an annual award show which aims to build a strong infrastructure for cultural exchange and development of the TV drama industry. SDA has been playing a critical role as a bridge to connect a variety of countries and encourage them to share their finest drama productions.
This year marks the ninth year of this award, involving the most countries since its launch in 2006. Altogether, 209 dramas from 50 countries took part in the competition, among which 24 dramas and 28 producers and role players were nominated.
(Wang Ruiqi)