For love of money
2014-11-18 05:53:14 GMT
2014-11-18 13:53:14(Beijing Time)
China Daily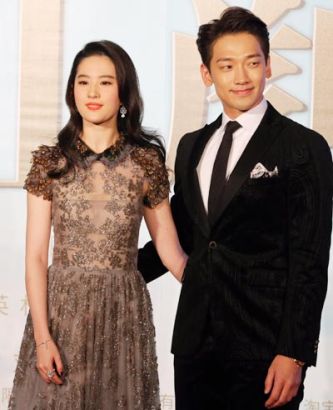 Liu Yifei and Rain attend the Beijing press conference to promote their romance production For Money Or Love.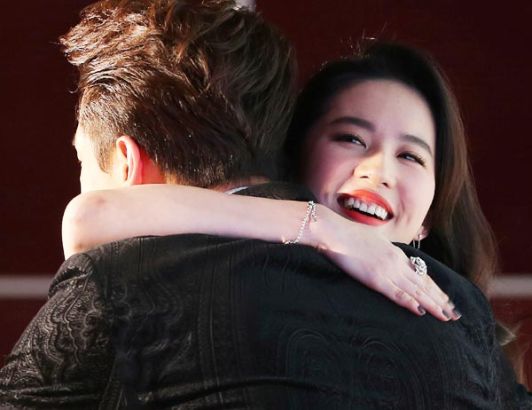 Liu embraces Rain, who plays the role of her lover in the movie.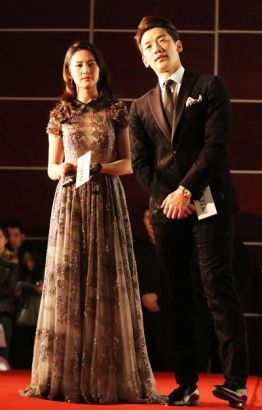 Liu Yifei and Rain at a press conference to promote the ongoing movie For Love Or Money, the first film adaptation of Hong Kong author Amy Siu-Haan Cheung's classic novel.
The first film to be adapted from Amy Siu-Haan Cheung's classic novel, For Love Or Money, seems to suggest that fan frenzy can turn a mediocre production into a box-office hit.
Based on the Hong Kong best-selling author's book of the same name, the movie has fetched a total of 54.8 million yuan ($8.9 million) in box-office revenues in the first week since its release on Nov 7, according to 58921.com, a box-office tracking website.
But, the romance, featuring a somewhat vicious version of Cinderella's story, got a low reception on a dozen major film review websites, such as douban.com (with a score of 5.2 points on a scale of 10) and mtime.com (with 5.5 points).
Most reviewers have criticized the stereotypical storyline and coarse shooting of the movie, which is the first feature-length attempt by TV series director Gao Xixi.
Gao, 52, has shot to fame for a series of epic TV productions, including the new version of The Romance of Three Kingdoms.
"Undoubtedly, the only highlights in the movie are lead actor Rain and actress Liu Yifei. The ticket is worthy just for admiring their pretty faces on the big screen," a blogger wrote on douban.com. The comment was reposted on the site.
Rain, the stage name of South Korean A-list actor and singer Jung Ji Hoon, plays the character of a handsome artist, who falls in love with a café owner, Liu's role.
The romance is revealed as a delicately schemed trap for the artist, as his mother hires Liu to lure her son and then break his heart for a reason, "you have no money", in an attempt to force the artist to quit his painting dream and take to his family business.
During the 10-city promotional tour for the movie across the country earlier this month, Rain's fans traveled with their idol and even purchased all of the tickets at a cinema hall to support their star. Some fans posted on Baidu Tieba, an online forum, that they watched the film several times.
Liu's fans weren't behind. They have been posting positive comments about the movie on Sina Weibo, China's equivalent of micro blog Twitter. The movie topic trended for a while too.
"If numerous fans praise a film and make it an Internet sensation, it will raise non-fans' interest in the production and lead them to the cinemas," said Zheng Ye, a veteran showbiz critic.
He cites the examples of how low-budget movies, such as Mysterious Island and My Kingdom, were tailored for the fans of its lead pair to win box-office revenues.