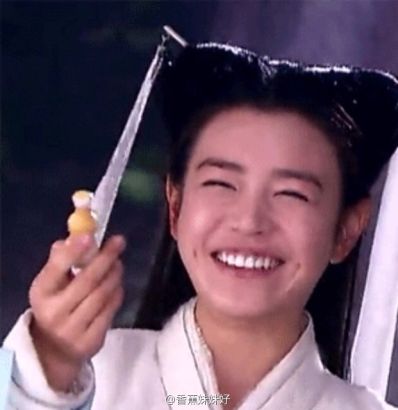 Michelle Chen in a scene from Condor Heroes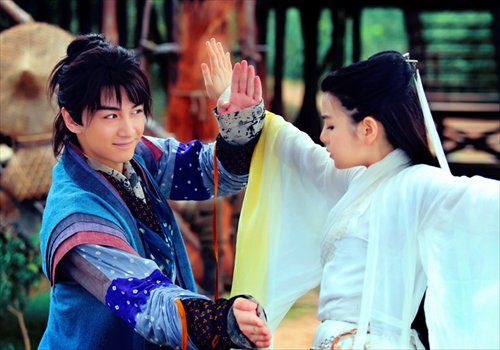 Chen Xiao (left) and Michelle Chen in a scene from Condor Heroes
As many predicted, the new TV version of The Return of the Condor Heroes, adapted by controversial domestic screenwriter Yu Zheng, has proven worries that the show would turn out to be a vulgar mess possessing little artistic value completely true. Although previously Yu has managed to weather the controversies about his work without much damage, this time he might not be so lucky since the group he is upsetting are dedicated fans of revered wuxia (Lit: martial hero) novelist Jin Yong (Louis Cha).
Published by Jin Yong in 1959, The Return of the Condor Heroes is seen as a classic among the author's dozens of martial arts novels. Holding absolute dominance and possessing a huge fan base in China, Jin Yong's novels have been adapted to both the big and small screens numerous times, works that helped establish the careers of a number of today's big-name stars.
A controversial screenwriter, questions about plagiarism and criticisms about the poor quality of Yu's work have never ceased. Almost coinciding with the premiere of his new Condor Heroes on Hunan TV on December 3, Yu has found himself in court defending himself against accusations of plagiarism from famous romance writer Chiung Yao, who has stated that Yu used parts of her 1993 work Mei Hua Lao in his 2014 TV series Palace 3: The Lost Daughter.
With the adaptation led by such a controversial screenwriter, fans of Jin Yong's Condor Heroes began lamenting the story's fate even before the show began production. As production images of the show's lead actress Michelle Chen began to circulate around the Internet, criticism and even calls to boycott the show began to overshadow the production.
Too much girl next door
"That's the fattest Xiaolongnü (little dragon lady) I've ever seen!" "It's sad that such a supreme wuxia classic has been reduced to a nauseous love story!" - Comments such as these swept the Internet almost instantly after the show premiered last week. And for good reason: The show is filled to the brim with bad writing, cheaply made actions scenes and a story that completely departs from the novel.
One of the biggest problems with the show comes from the casting choice for the main character. In the novel, Xiaolongnü is described as pure, pretty, quiet and elegant young woman. From the early 1983 series to the 1995 version staring Carman Lee - regarded as the defining depiction of the character - and further on to the more recent 2006 mainland version played by Liu Yifei, an actress's looks and temperament have always been seen as primary requirements for playing this leading role.
Rising to fame overnight by playing the leading character in the school-life film You Are the Apple of My Eye in 2011, Taiwan's Michelle Chen usually plays the baby-faced cute girl next door. However, while she has matured beyond playing a high school student over the past three years, Chen's appearance as the cool and collected Xiaolongnü has been a disaster for Condor Heroes, as viewers such as myself are having a difficult time connecting Chen with the image depicted in the classic novel or previous series. Moreover, her childish talks of love with the lead male character Yang Guo (Chen Xiao) have turned a moving love story into a nauseating experience.
Twisted romance
While different from what we think of when it comes to modern romance, the chivalrous love between Xiaolongnü and Yang Guo is the emotional core of the original novel. However, under Yu's pen, not only has Xiaolongnü's image been destroyed, Yang too has been distorted almost beyond recognition. Gone is single-minded youth from the original novel. He has been replaced by sauve and lecherous guy who comes across as willing to run off with any woman he meets.
Even more distracting and annoying are the several smaller romances among secondary characters that Yu has come up with out of the blue. By forcing romances on characters who were never involved in a romantic plotline in the book, Yu has successfully erased these characters' original chivalrous nature, replacing it with something that is barely recognizable.
Death of chivalry
For decades Chinese people have loved to read or watch adaptations of Jin Yong's works because of his emphasis on the chivalrous spirit that defines a wuxia novel. For example, In The Return of the Condor Heroes, there is a scene in which Guo Jing, Yang Guo's uncle tells Yang the two-fold purpose behind learning kung fu: helping people in distress and protecting the nation and its people. This not only reveals the chivalrous nature of the characters in the novel, but also of the author himself.
It is this spirit and the heroism and integrity of his characters that have turned so many of his books into instant classics.
But in Condor Heroes, Yang Guo is more interested in finding love than he is in helping others. This complete disregard of Jin Yong's spirit has irritated not only audiences but also well-known writers. Mainland wuxia author Duguyi, who is also an experienced researcher into the works of Jin Yong, has called on the public to boycott the show to send a message that such works have no place in the market.
Of course the sad fact is that boycotts stand a small chance of succeeding as controversy has just caused more people to pay attention to the show. It's quite possible that this was Yu's plan all along, deliberately choosing to make a very poor show to attract those viewers who can't help but watch as something they love is desecrated before their very eyes. However, although he may succeed in increasing his ratings, a bad show is still a bad show.