By Lisa Gay, Geoff Ng and Sienna Parulis Cook
Many of us love Beijing because of the cost of living here—we can eat, watch DVDs and get chauffeured around for a lot less than in the West. But on the other hand, things here aren't as cheap as they used to be.
How does Beijing's cost of living really compare to the rest of the world? We compared our city to Toyko, London, New York, Delhi, Sydney, Toronto and Manila to find out. For reference, here are the average annual salaries for each city: Delhi RMB20,510; Beijing RMB56,061; Tokyo RMB352,106; New York RMB383,463; London RMB460,730; Sydney RMB363,745; Toronto RMB353,731; Manila RMB54,136.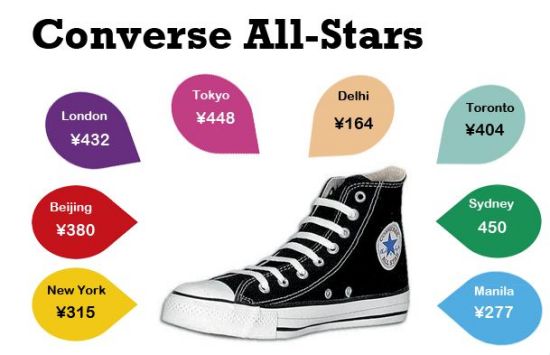 Real Converse All Stars might be pricey, but we also found fake ones for RMB20.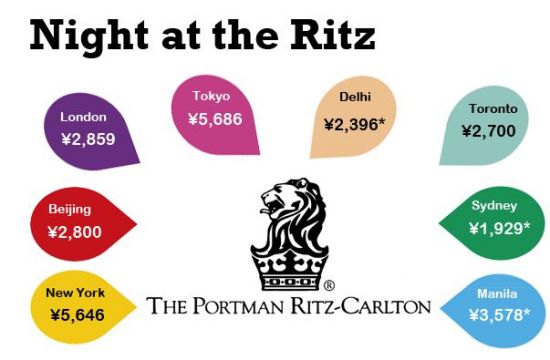 The rates here are for the night of October 15, 2012 at the Ritz-Carlton in Beijing, New York and Tokyo, and the Ritz London. Delhi, Sydney and Manila don't have a resident Ritz Carlton hotel and were substituted with similar five-star property. In Delhi, the Leela Palace (TripAdvisor's top pick) was used. In Sydney, we took estimates from a one night stay at the Le Royal Méridien in Sydney Harbour. And in Manila, we took an estimate from the Peninsula Hotel.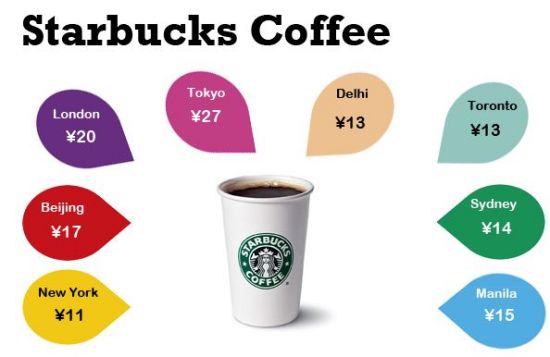 Starbucks hasn't yet opened in India, so the Delhi price is from Costa Coffee, the country's biggest international coffee chain.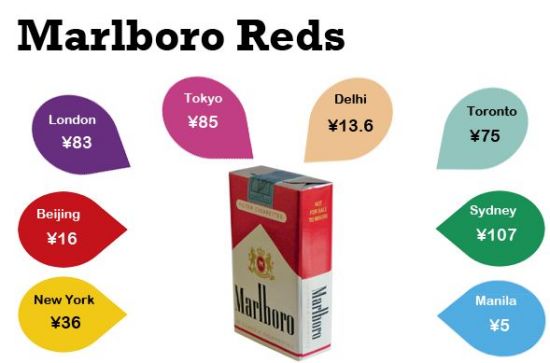 Cancer is cheaper in China, especially since local cigarette brands are much less expensive.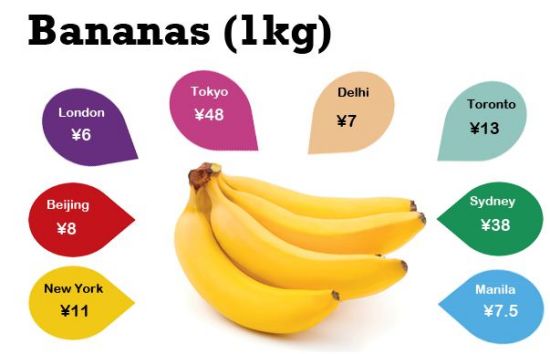 Fruit prices aren't dramatically different around the world, except in Tokyo and Sydney, where bananas are a luxury.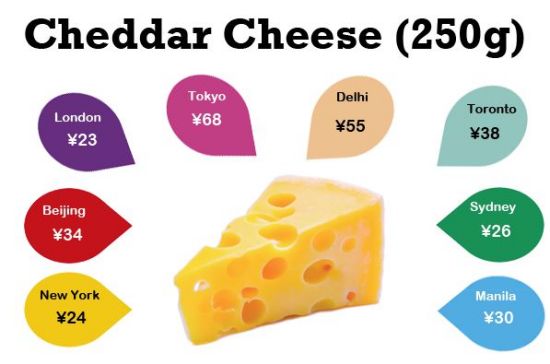 Cheese, one of the only things that makes London and New York seem cheap.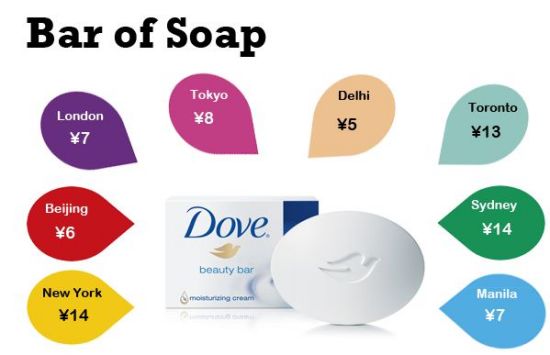 Apparently staying clean is much pricier in New York City.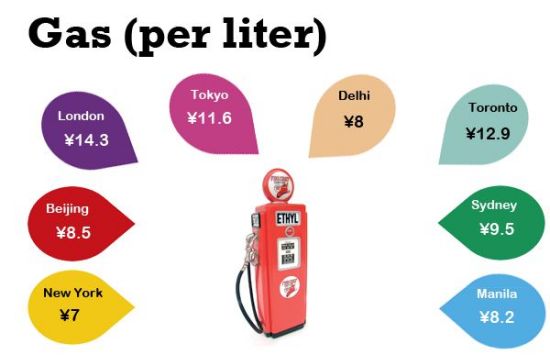 Gas in Beijing, though subsidized, is not as comparatively cheap as we expected. Check out taxi fare comparisons below and have newfound sympathy for your siji.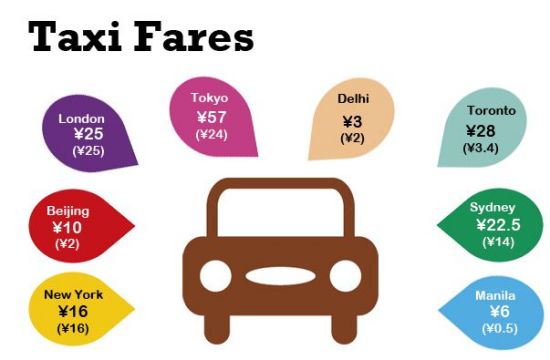 We've included the starting fare, plus the rate per kilometer. Remind us never to set foot in a Tokyo taxi.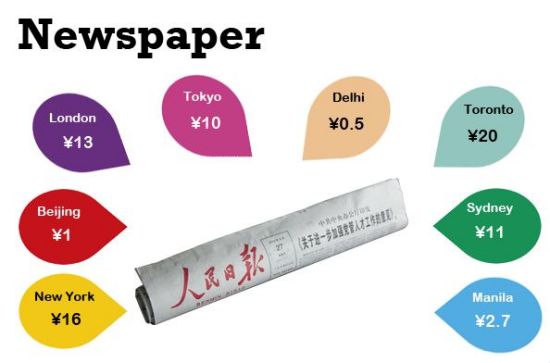 Is the New York Times really 16 times better than People's Daily? That's up to you.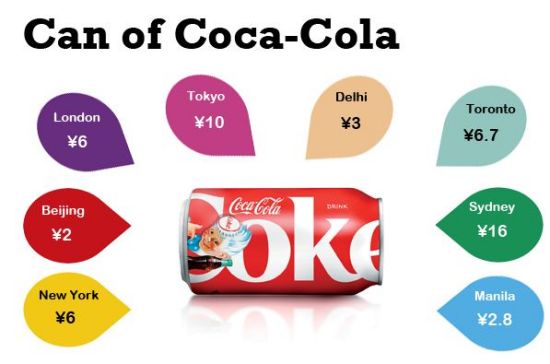 You'll find it in almost every fridge around the world, however Sydney peddles it at a much higher price.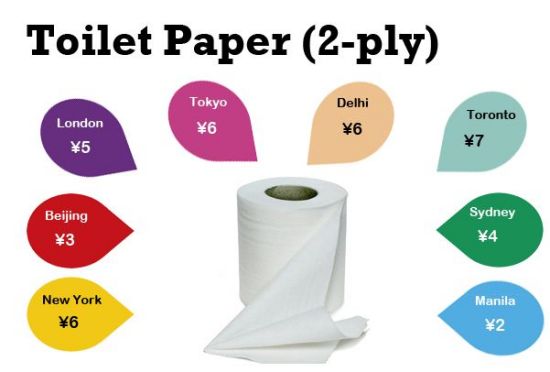 Turns out it's a lot cheaper to go to the bathroom in Beijing. Yippee!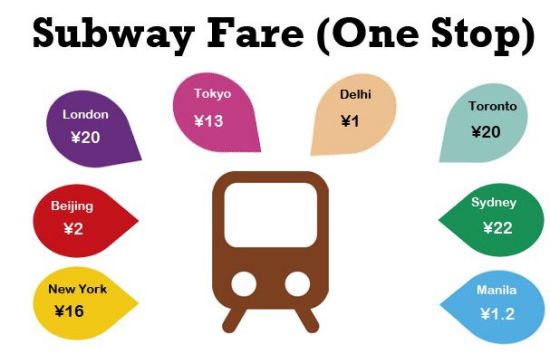 The cost of a single ride on the subway makes getting squeezed in at Guomao easier to bear.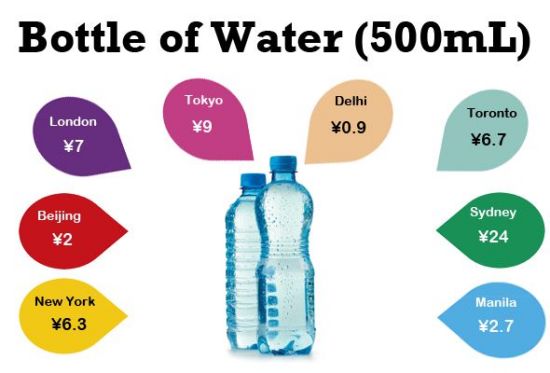 Water's a pretty limited commodity, especially in a very dry area of the world like Beijing. But your Wahaha is still extremely affordable.
  One of the biggest price discrepancies we found, the cost of cleaning services is far cheaper in Beijing than in the West or Japan, but India makes even our ayis look pricey.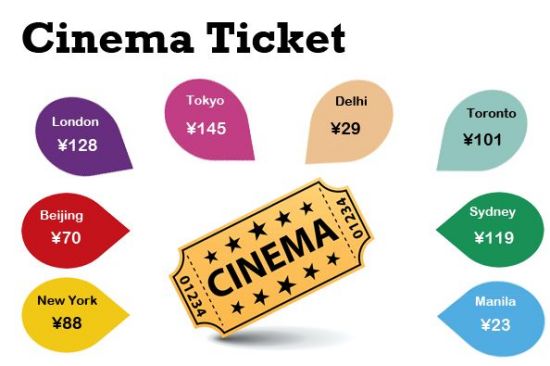 No wonder Bollywood is such a huge film industry - people can afford to watch it.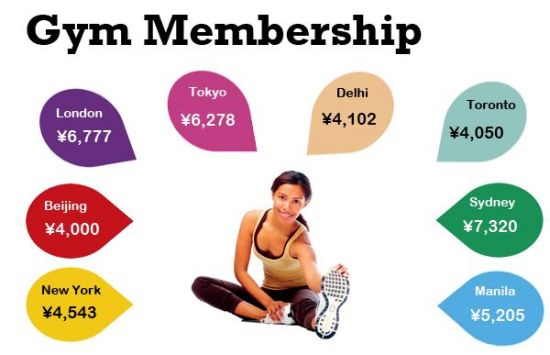 A year-long gym membership is definitely worth paying for. The Beijing price comes from Powerhouse Gym.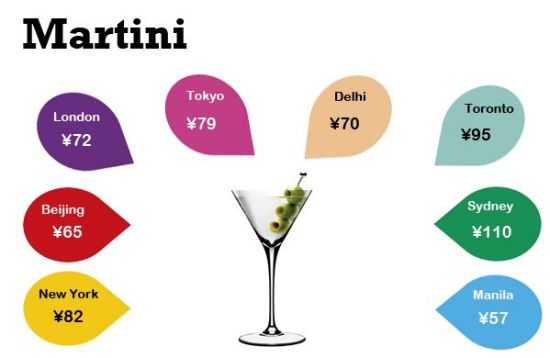 It turns out a nice cocktail is expensive no matter where you're drinking it, from Manhattan to Nali Patio.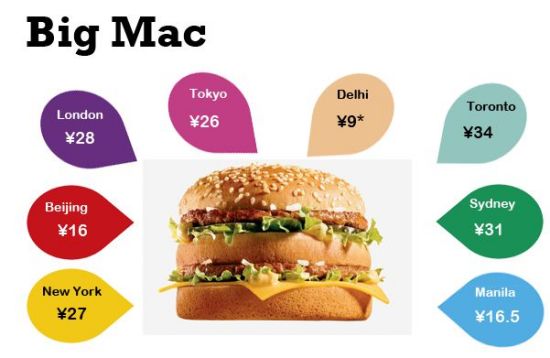 The classic "Big Mac index" shows Beijing is right in the middle.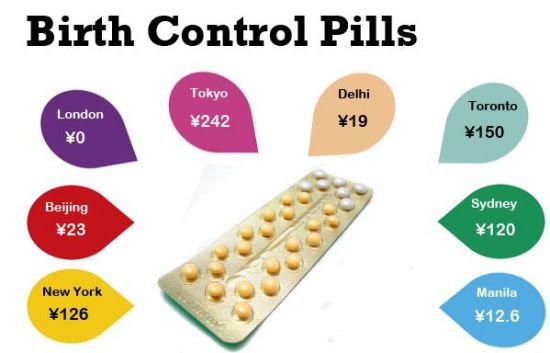 Surprisingly, Japan has by far the lowest birthrate of these five countries. Price is for a month.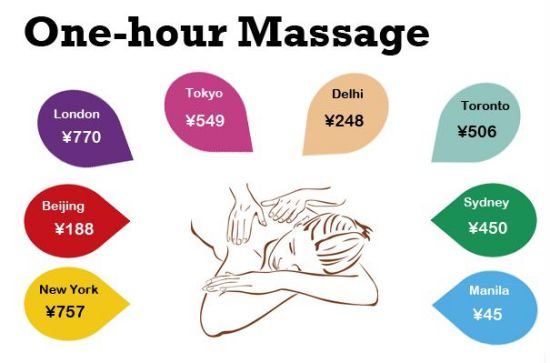 All major cities are stressful, but at least it's cheaper to de-stress in Beijing. Our price is from Bodhi.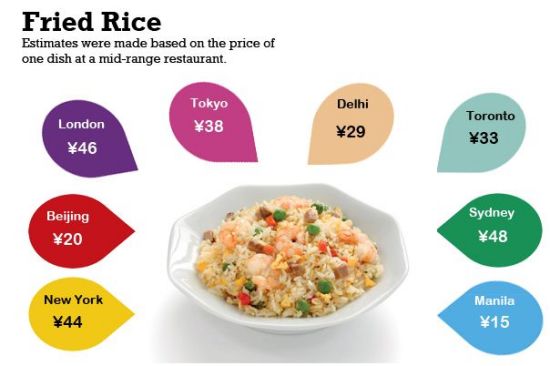 Expect to pay more than double for your chaofan in London or NYC, despite large Chinatowns in both cities.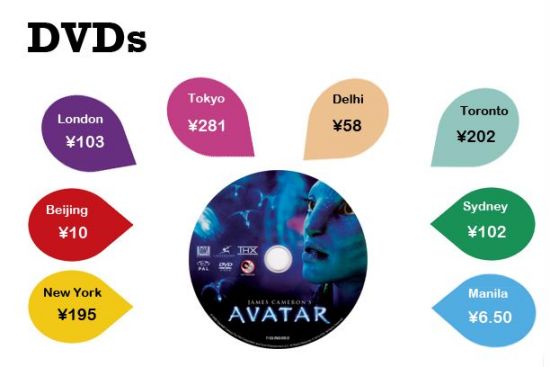 Yes, DVDs really are that much cheaper in Beijing. We love you, China!