Medal and success not child's happiness
2012-06-01 01:41:17 GMT
2012-06-01 09:41:17(Beijing Time)
SINA.com
Sina English
On the 1st of June, the International community celebrates International Children's Day. This is quite a difficult time for children in the contemporary world which is overfilled with information and stress.
Parents, teachers and the society as a whole often make excessive demands focusing on intellectual development and calling on children to adapt to the life of grow-ups.
At present, success has turned into one of the main values in the society. A rush for high social status and financial prosperity, and the burden of corporative and domestic work are preventing parents from giving their children sufficient warmth and attention. At present, according to some experts, parent's love is changing.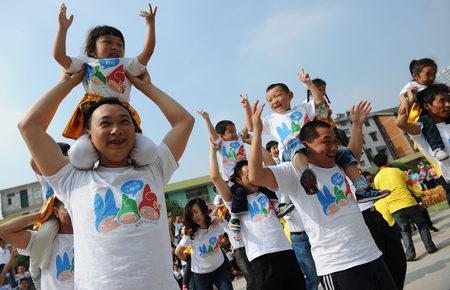 Parents should give their children sufficient warmth and attention.
Instead of unconditional love or the talent to perceive the child as he or she is, parents often cherish mixed feelings towards their offspring: admiration when the child is successful and shame for the unlucky child who fails to respond to excessive demands. As a result, the child loses the feelings of protection and starts defending himself or herself from those who the child should trust the most - the parents.
The excessive demands of parents leave the psychological well-being of children and emotional contact with them outside their priorities, which has somewhat held the children as hostage of life and the society in which they are brought up and have to learn to be capable to give and take with others.
Consequently, parents and teachers spur the intellectual development of pre-school children forcing, for example, a three -year-old child to read, write and solve simple math problems, do simple operations on the computer, learn a foreign language, most probably English, and learn how to play music.
At the same time, many adults have no knowledge of the specifics of children's psychology. And an early specialization in arts, music or sports in children's education often triggers emotional and psychological stress.
In short, the child should prove from an early age that he or she will justify the parents' expectations and will wage a life which has already been determined by his or her parents. In these circumstances, children could become emotionally unstable and, unhappy.
When mother and father fix a "price" for their child depending on the child's success, it's high time to find means to protect children from parents. For example, experts should explain to the parents that medals and success are very different from a child's happiness.