Light my fire
2012-02-06 04:44:07 GMT
2012-02-06 12:44:07(Beijing Time)
Global Times
Customers drink by open fire at Cotton's.
Shanghai's winter is no laughing matter. And when it lasts up to four months at a stretch, the chance to sit around an open fire is not to be passed up lightly.
And after a hard day's work, nothing is more relaxing than a drink besides a warming hearth. Even in today's climate of central heating, fireplaces remain a classically decorative and practical addition to any room. The Global Times has sought out some of the best fireplaces in town.
Cotton's
Opened back in 2003, Cotton's is a well-known bar housed in an old villa and makes an ideal haven to escape the cold when the weather is bad.
There are two fireplaces in the bar's "red" rooms on the first floor and one on the second floor. With retro style lamps hanging above them, the fireplaces are kept constantly lit to give customers a homely feeling.
And inside a temporary tent set up in the bar's garden is a wood-burning brazier which gives the impression of a campfire. Cocktails remain the signature drink at Cotton's, and the bar's happy hour period runs from 4 pm to 8 pm on weekdays, where punters can buy-one-get-one-free.
Add: 132 Anting Road 安亭路132号
Tel: 6433-7995
Opening hours: 11 am to 2 am (to 4 am on weekends)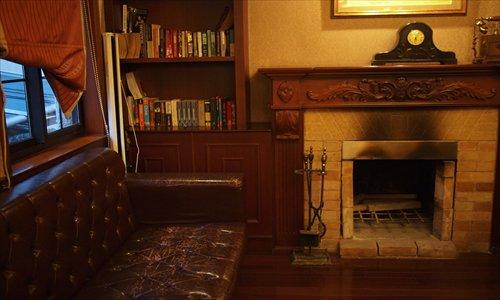 The interior of the Park Tavern Photos: Cai Xianmin/GT
Park Tavern
The Park Tavern is located just next to the Bauhaus-styled Hengshan Cinema on Hengshan Road. This three-story villa was transformed into a British style pub in 2008.
The bar's fireplace is on the second floor, and is kept burning during opening hours according to customers' need. On Friday nights, a band keeps patrons happy.
There is a snooker table in the basement and two widescreen televisions screens on the first floor. According to the bar manager, the bar stocks 96 different varieties of whisky, some of which are more than 20 years old. The bar also sells many beers on draught and its happy hour lasts from 11 am to 8 pm during weekdays, with selected beers available for buy-one-get-one-free.
Add: 840 Hengshan Road 衡山路840号
Tel: 5465-9312
Opening hours: 11 am to 2 am (closes later at weekends)
Dr. Wine
Step inside Dr. Wine on Fumin Road and you will find a fireplace tucked neatly into one corner. Several couches are placed in front of the fireplace, and it makes the perfect spot to sit down and have a drink by the warm fire.
Apart from the classic fireplace Dr. Wine is distinguished by its retro style decorations. The bar has many old-fashioned furniture items including wooden crates for tables, an old piano and retro biscuit tins on the window.
Add: 177 Fumin Road 富民路177号
Tel: 5403-5717
Opening hours: 11:30 am to 2 am