Ren wins China's sixth diving gold of Rio Games
2016-08-18 21:39:18 GMT
2016-08-19 05:39:18(Beijing Time)
Xinhua English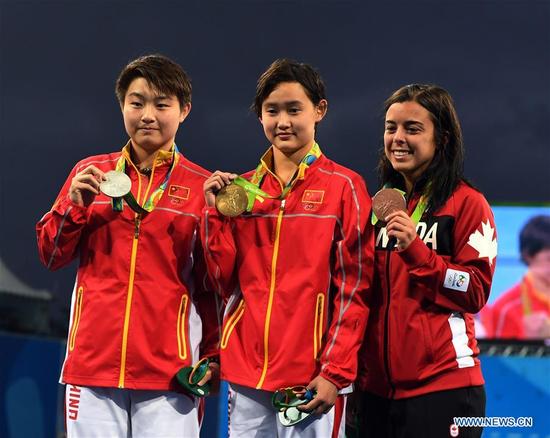 Gold medalist China's Ren Qian (C), silver medalist China's Si Yajie (L), bronze medalist Canada's Meaghan Benfeito attend the awarding ceremony for the women's 10m platform final of Diving at the 2016 Rio Olympic Games in Rio de Janeiro, Brazil, on Aug. 18, 2016. (Xinhua/Cheng Min)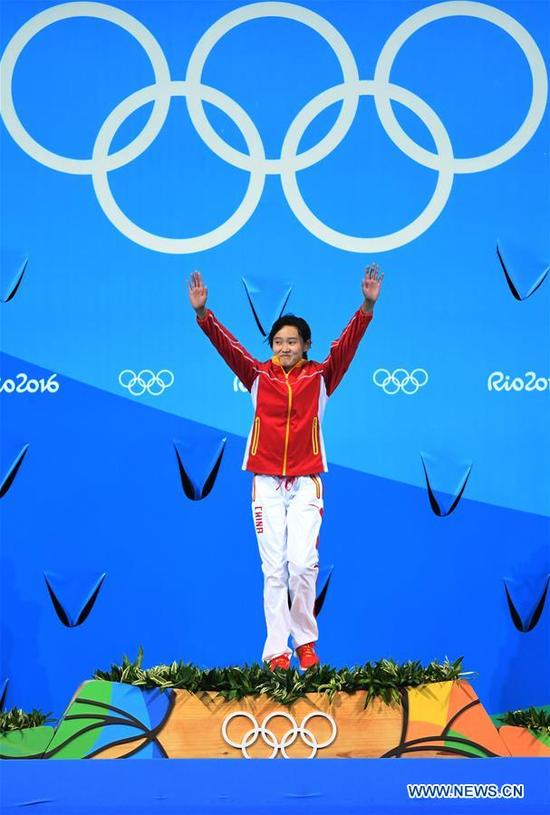 Gold medalist China's Ren Qian attends the awarding ceremony for the women's 10m platform final of Diving at the 2016 Rio Olympic Games in Rio de Janeiro, Brazil, on Aug. 18, 2016. (Xinhua/Cheng Min)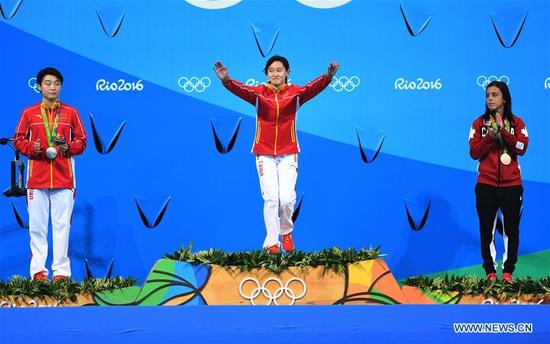 Gold medalist China's Ren Qian (C), silver medalist China's Si Yajie (L), bronze medalist Canada's Meaghan Benfeito attend the awarding ceremony for the women's 10m platform final of Diving at the 2016 Rio Olympic Games in Rio de Janeiro, Brazil, on Aug. 18, 2016. (Xinhua/Cheng Min)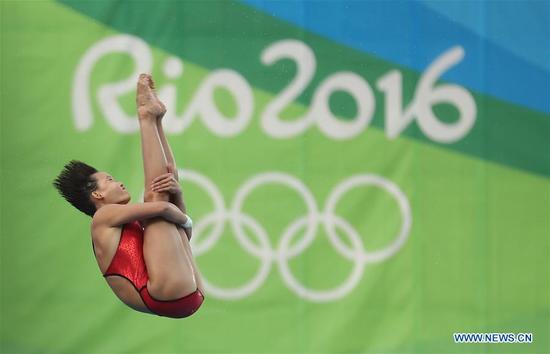 China's Ren Qian competes during the women's 10m platform final of diving at the 2016 Rio Olympic Games in Rio de Janeiro, Brazil, on Aug. 18, 2016. Ren Qian won the gold medal. (Xinhua/Cao Can)
China's Ren Qian competes during the women's 10m platform final of Diving at the 2016 Rio Olympic Games in Rio de Janeiro, Brazil, on Aug. 18, 2016. Ren Qian won the gold medal. (Xinhua/Cheng Min)
China's Ren Qian competes during the women's 10m platform final of Diving at the 2016 Rio Olympic Games in Rio de Janeiro, Brazil, on Aug. 18, 2016. Ren Qian won the gold medal. (Xinhua/Cheng Min)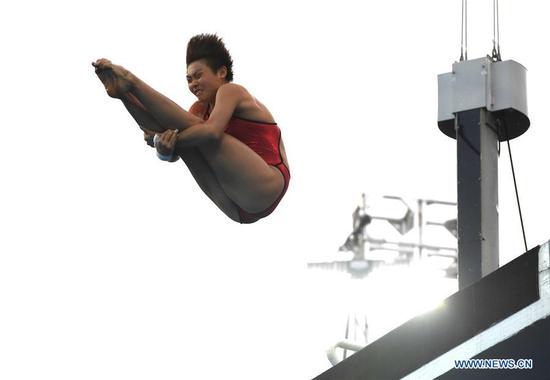 China's Si Yajie competes during the women's 10m platform final of Diving at the 2016 Rio Olympic Games in Rio de Janeiro, Brazil, on Aug. 18, 2016. Si Yajie won the silver medal. (Xinhua/Cheng Min)
RIO DE JANEIRO, Aug. 18 (Xinhua) -- Teenager Ren Qian claimed China's sixth diving gold medal of the Rio Olympics by winning the women's 10m platform final here on Thursday.
The 15-year-old finished with 439.25 points to beat her compatriot Si Yajie by 19.85 points at the Maria Lenk Aquatics Centre. Canada's Meaghan Benfeito took bronze with 389.20 points.
Ren started inauspiciously before posting scores of 94.05, 91.20 and 91.20 with her final three dives.
China has now won six of the seven diving gold medals decided so far at the Rio Olympics.
The last diving event here - the men's 10m platform - will be staged on Saturday.