Trump, Clinton finish presidential race with historically poor images: poll
2016-11-08 18:59:33 GMT
2016-11-09 02:59:33(Beijing Time)
Xinhua English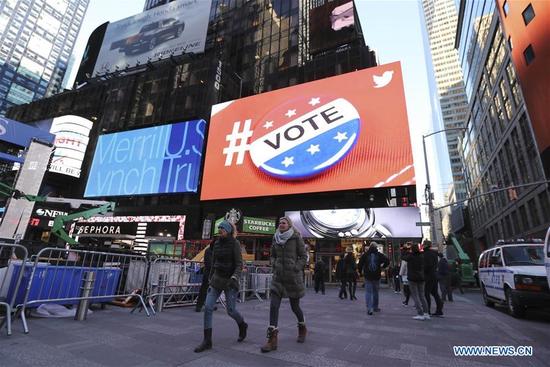 People walk past a screen showing a media advertisement for the voting day at the Times Square in New York, theUnited States, Nov. 7, 2016. The U.S. general election will be held on Nov. 8. (Xinhua/Wang Ying)
WASHINGTON, Nov. 8 (Xinhua) -- U.S. Republican presidential nominee Donald Trump and Democractic candidate Hillary Clinton have finished their presidential race with the worst images of any U.S. major-party presidential candidates, found a Gallup poll released Tuesday.
Trump has a 61 percent unfavorable rating, compared to 52 percent for Clinton. Trump gains 36 percent for favorable rating, compared to 47 percent for Clinton, according to the Nov. 2-5 poll
This is the worst election-eve image of any U.S. major-party presidential candidates Gallup has measured back to 1956.
There are extraordinarily high percentages viewing each candidate "highly unfavorably," with 42 percent of Americans viewing Trump so and 39 percent viewing Clinton in the same way. The ratings were virtually unchanged from June, when they emerged as winners of their own party's nomination.
This demonstrates the deep distaste by Americans for the two candidates in perhaps one of the nastiest presidential races in modern U.S. history. Scandals, mud-slinging and even personal insults have dominated the debates and nearly daily media headlines.
While Trump, a brash billionaire, has been criticized for being racist, sexist and even narcissistic, Clinton has been plagued by scandals involving her use of a private email account while she was secretary of state and corruption charges against the Clinton Foundation.
"The 2016 election is the only one in Gallup's polling history to feature two broadly unpopular candidates. Further, when factoring in the high percentages viewing each very negatively, Trump and Clinton are the two most negatively reviewed U.S. presidential candidates of the modern era, and probably ever," Gallup said in a report.
There has been a trend toward harsher ratings of candidates in recent U.S. presidential elections, Gallup said.
Indeed, no presidential candidate since Ronald Reagan in 1984 has ended a campaign with a total favorable rating above 70 percent. But even in the last two elections, all candidates enjoyed total favorable scores of 55 percent or higher, Gallup noted.
"In sum, this contest of historically unpopular candidates concludes with Clinton the apparent "lesser of two evils," and that could be what decides the election," Gallup said.
Clinton held a slight edge over Trump by 46.8 percent to 43.6 percent on Monday in the RealClear Politics' poll average, as they finished their campaigning on eve of the Election Day.