Building seriously damaged in Shanghai
2017-01-12 00:21:49 GMT
2017-01-12 08:21:49(Beijing Time)
Xinhua English
SHANGHAI, Jan. 11 (Xinhua) -- One was injured after a residential building explosion in Shanghai on Wednesday night, said government sources.
The accident occurred at around 9 p.m. Wednesday in Yangpu District. The walls of the second and third floors of the four-storey building collapsed, said the district government.
One resident was taken to hospital, whose injuries are not life-threatening, it said.
Some residents said they heard a loud bang. A preliminary investigation indicated a natural gas leak as the suspected cause of the accident.
Residents have been relocated.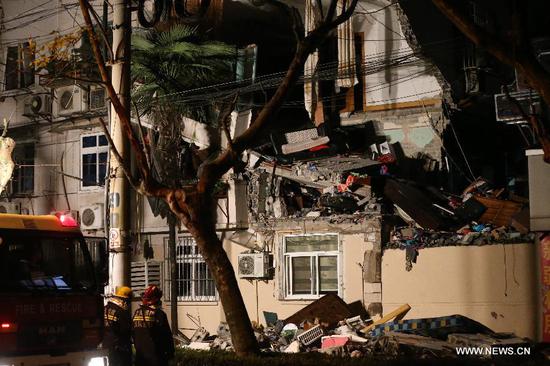 Photo taken on Jan. 11, 2017 shows the damaged residential building in Shanghai, east China. A residential building in Shanghai has been seriously damaged, reportedly by an explosion, fire fighting sources said. A resident was injured in the explosion, which was suspected to be caused by gas leak. (Xinhua/Ding Ting)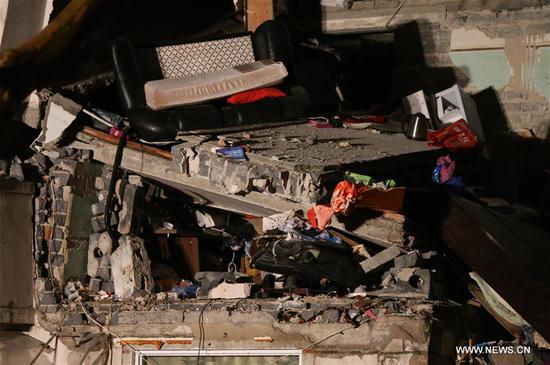 Photo taken on Jan. 11, 2017 shows the damaged residential building in Shanghai, east China. A residential building in Shanghai has been seriously damaged, reportedly by an explosion, fire fighting sources said. A resident was injured in the explosion, which was suspected to be caused by gas leak. (Xinhua/Ding Ting)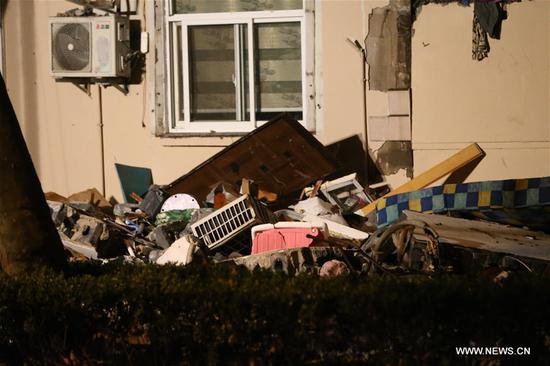 Photo taken on Jan. 11, 2017 shows furnitures falling from the damaged residential building in Shanghai, east China. A residential building in Shanghai has been seriously damaged, reportedly by an explosion, fire fighting sources said. A resident was injured in the explosion, which was suspected to be caused by gas leak. (Xinhua/Ding Ting)
Photo taken on Jan. 11, 2017 shows the damaged residential building in Shanghai, east China. A residential building in Shanghai has been seriously damaged, reportedly by an explosion, fire fighting sources said. A resident was injured in the explosion, which was suspected to be caused by gas leak. (Xinhua/Ding Ting)