Aging panda returns to hometown for better care
2017-03-16 23:50:57 GMT
2017-03-17 07:50:57(Beijing Time)
Xinhua English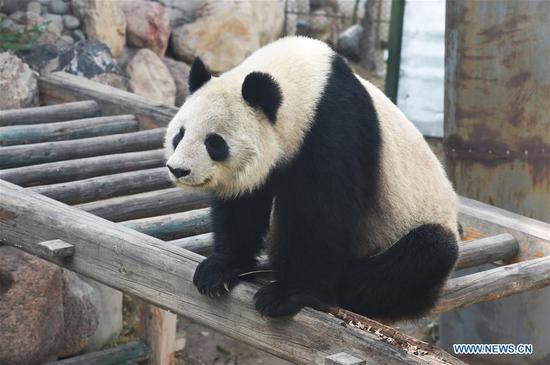 Giant panda Shu Lan rests at Lanzhou Zoo in Lanzhou, capital of northwest China's Gansu Province, March 16, 2017. The 23-year-old giant panda will leave Lanzhou on Thursday to return to its hometown in southwest China's Sichuan Province due to health concerns. The Lanzhou zoo held a farewell party for Shu Lan on Thursday morning. Many locals came to say goodbye. Experts said Shu Lan is in normal health, but concluded that she has shown some symptoms of aging, such as weight loss. Her age is equivalent to about 70 human years. Therefore, experts suggested sending Shu Lan to a conservation and research center for Giant Panda in Sichuan to help her maintain her health. (Xinhua/Fan Peishen)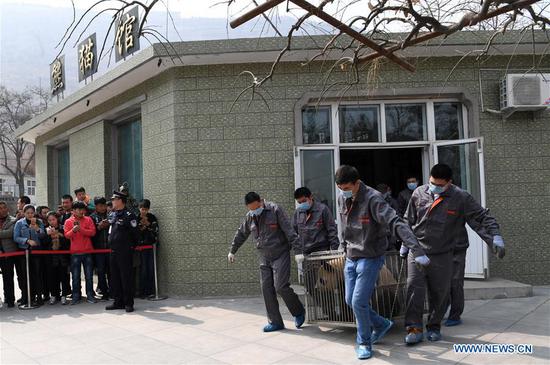 Staff members carry giant panda Shu Lan out at Lanzhou Zoo in Lanzhou, capital of northwest China's Gansu Province, March 16, 2017. The 23-year-old giant panda will leave Lanzhou on Thursday for her hometown in southwest China's Sichuan Province due to health concerns. The Lanzhou zoo held a farewell party for Shu Lan on Thursday morning. Many locals came to say goodbye. Experts said Shu Lan is in normal health, but concluded that she has shown some symptoms of aging, such as weight loss. Her age is equivalent to about 70 human years. Therefore, experts suggested sending Shu Lan to a conservation and research center for Giant Panda in Sichuan to help her maintain her health. (Xinhua/Fan Peichen)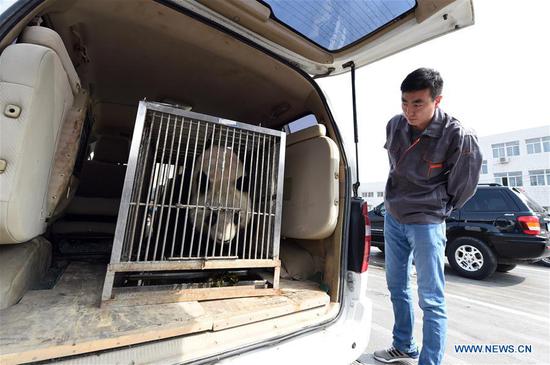 A staff member checks the condition of giant panda Shu Lan in Lanzhou, capital of northwest China's Gansu Province, March 16, 2017. The 23-year-old giant panda will leave Lanzhou on Thursday for her hometown in southwest China's Sichuan Province due to health concerns. The Lanzhou zoo held a farewell party for Shu Lan on Thursday morning. Many locals came to say goodbye. Experts said Shu Lan is in normal health, but concluded that she has shown some symptoms of aging, such as weight loss. Her age is equivalent to about 70 human years. Therefore, experts suggested sending Shu Lan to a conservation and research center for Giant Panda in Sichuan to help her maintain her health. (Xinhua/Fan Peichen)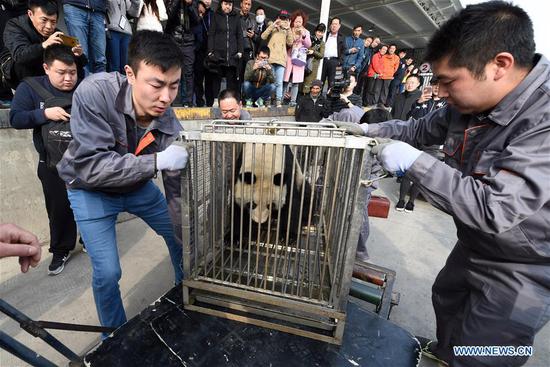 Staff members carry giant panda Shu Lan at the airport in Lanzhou, capital of northwest China's Gansu Province, March 16, 2017. The 23-year-old giant panda will leave Lanzhou on Thursday for her hometown in southwest China's Sichuan Province due to health concerns. The Lanzhou zoo held a farewell party for Shu Lan on Thursday morning. Many locals came to say goodbye. Experts said Shu Lan is in normal health, but concluded that she has shown some symptoms of aging, such as weight loss. Her age is equivalent to about 70 human years. Therefore, experts suggested sending Shu Lan to a conservation and research center for Giant Panda in Sichuan to help her maintain her health. (Xinhua/Fan Peichen)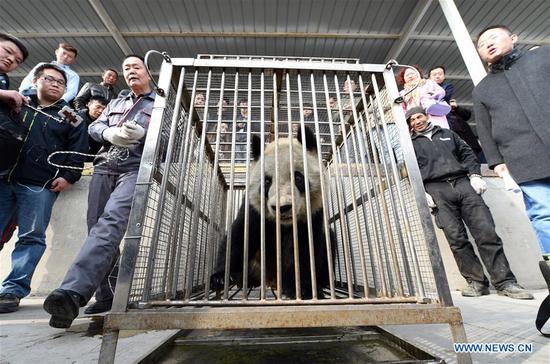 Giant panda Shu Lan waits for transportation at the airport in Lanzhou, capital of northwest China's Gansu Province, March 16, 2017. The 23-year-old giant panda will leave Lanzhou on Thursday for her hometown in southwest China's Sichuan Province due to health concerns. The Lanzhou zoo held a farewell party for Shu Lan on Thursday morning. Many locals came to say goodbye. Experts said Shu Lan is in normal health, but concluded that she has shown some symptoms of aging, such as weight loss. Her age is equivalent to about 70 human years. Therefore, experts suggested sending Shu Lan to a conservation and research center for Giant Panda in Sichuan to help her maintain her health. (Xinhua/Fan Peichen)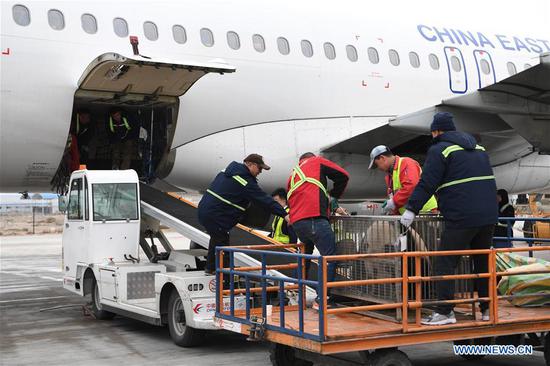 Staff members carry giant panda Shu Lan at the airport in Lanzhou, capital of northwest China's Gansu Province, March 16, 2017. The 23-year-old giant panda will leave Lanzhou on Thursday for her hometown in southwest China's Sichuan Province due to health concerns. The Lanzhou zoo held a farewell party for Shu Lan on Thursday morning. Many locals came to say goodbye. Experts said Shu Lan is in normal health, but concluded that she has shown some symptoms of aging, such as weight loss. Her age is equivalent to about 70 human years. Therefore, experts suggested sending Shu Lan to a conservation and research center for Giant Panda in Sichuan to help her maintain her health. (Xinhua/Fan Peichen)
LANZHOU, March 16 (Xinhua) -- A 23-year-old Giant panda is leaving the northwest Chinese city of Lanzhou on Thursday to return to its hometown in southwest China's Sichuan Province due to health concerns.
The giant panda, named Shu Lan, will fly from Lanzhou City to China Conservation and Research Center for the Giant Panda (CCRCGP) in Chengdu City on a China Eastern Airlines flight on Thursday night, accompanied by her breeder and vet.
The Lanzhou zoo held a farewell party for Shu Lan on Thursday morning. Many locals came to say goodbye.
A man in his 70s traveled more than 10 kilometers to the zoo to see Shu Lan.
"I visit the zoo seven to eight times every month. And every time I'm here, I come to see Shu Lan," said Wang.
He said he hopes she will become healthier and return to Lanzhou soon.
Photos of her with an injured back and foaming at the mouth went viral in October 2016 and February 2017, arousing public concern.
Experts said Shu Lan is in normal health, but concluded that she has shown some symptoms of aging, such as weight loss.
Her age is equivalent to about 70 human years.
The panda habitat at the zoo in Lanzhou was built in 1976 and is too antiquated to accommodate Shu Lan.
Therefore, experts suggested sending Shu Lan to the center for Giant Panda in Sichuan to help her maintain her health.
Shu Lan was born in 1994 in Chengdu City and moved to Lanzhou in 1996. She went back to Sichuan to live between 1999 and 2016 for research and breeding.
She gave birth to two babies, but one of them died, according to the zoo.
A national survey released in February 2015 showed that as of the end of 2013, China had 1,864 wild pandas and 375 others living in captivity.