China, Russia eye stronger partnership as top Chinese legislator visits Moscow
2017-04-21 11:51:01 GMT
2017-04-21 19:51:01(Beijing Time)
Xinhua English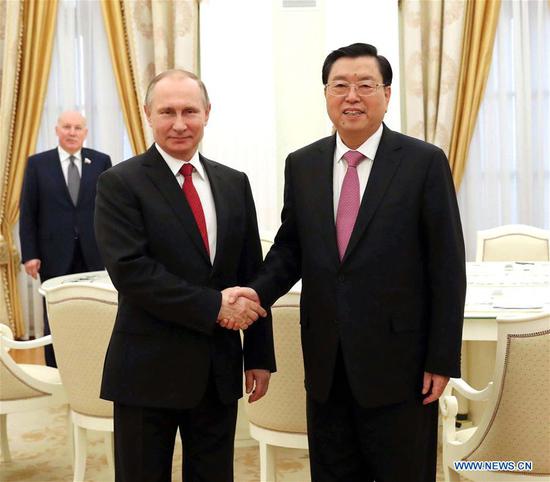 Zhang Dejiang, chairman of the Standing Committee of China's National People's Congress (NPC), meets with Russian President Vladimir Putin, in Moscow, capital of Russia, April 19, 2017. (Xinhua/Liu Weibing)
MOSCOW, April 21 (Xinhua) -- China and Russia agreed to boosttheir strategic partnership of comprehensive coordination duringthe three-day visit of top Chinese legislator Zhang Dejiang toMoscow.
Zhang, chairman of the Standing Committee of China's NationalPeople's Congress (NPC), has been in Russia since April 18. He metRussian President Vladimir Putin, and the two discussed ways tostrengthen cooperation between the two countries, particularlybetween the two legislatures.
Zhang hailed the growing bilateral ties under the leadership ofPutin and his Chinese counterpart Xi Jinping, noting thepartnership has broader room and greater potential for developmentthan ever before.
A complex international situation has underlined thesignificance of China-Russia friendship, Zhang said.
The priorities of the two countries' legislative bodies are tosafeguard and promote bilateral ties, he added.
Putin said that sound Russia-China relations have seen anincrease in economic and trade cooperation, more progress in majorprojects, vigorous cultural and people-to-people exchanges, andcooperation at the local level.
Putin expressed confidence in the prospect of Russia-China ties,saying the two legislative bodies shall maintain close ties.
In separate meetings with Valentina Matviyenko and VyacheslavVolodin, the top leaders of the upper and lower houses of theRussian parliament, Zhang said China and Russia should support eachother on issues mutual concern and that serve their coreinterests.
Zhang encouraged law makers from both countries to use the Beltand Road Initiative and Eurasian Economic Union as opportunities tostrengthen ties.
He also called on both sides to promote cultural andpeople-to-people exchanges and further coordinate in multinationalorganizations, such as the Asia-Pacific Parliamentary Forum, tosafeguard international justice.
For their parts, Matviyenko and Volodin said Russia and Chinahave enjoyed a closer friendship thanks to the high-level tiesbetween the countries' legislative bodies.
Zhang co-chaired with Matviyenko and Volodin a session of thelegislative bodies, where he called on both sides to shareexperiences, promote trade and seek an overall growth inrelations.
During his stay in Moscow, Zhang also met with representativesof the Russia-China Friendly Association and congratulated theassociation on its 60th anniversary.
The Chinese official laid a wreath at the Tomb of UnknownSoldiers at Red Square in downtown Moscow, visited the LeninMausoleum and the offices of the widely known media group RussiaToday.
Russia is the last leg of Zhang's four-nation trip that began onApril 12 and took him to Latvia, Lithuania and Belarus. Enditem