Chinese shuttlers win women's doubles of Indonesia Open Super Series
2017-06-18 11:55:13 GMT
2017-06-18 19:55:13(Beijing Time)
Xinhua English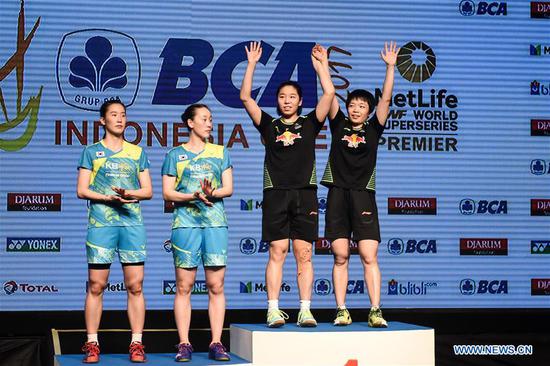 Chen Qingchen (1st R) and Jia Yifan (2nd R) of China and Chang Ye Na (1st L) and Lee So Hee of South Korea pose during the awarding ceremony after their women's doubles final match at Indonesia Open 2017 in Jakarta, Indonesia, June 18, 2017. Chen Qingchen and Jia Yifan won 2-1 to claim the title. (Xinhua/Du Yu)
JAKARTA, June 18 (Xinhua) -- China's No. 5 women's doubles players Chen Qingchen/Jia Yifan were crowned at the Indonesia Open Super Series here on Sunday, beating No. 3 players from South Korea Chang Ye na/Lee So he 21-19, 15-21, 21-10 in the final.
"Perhaps they have more pressures after won in Sudirman Cup last month. We have our strategy. We just gambled on with the match, which we eventually won," Jia Yifan told a press conference held in the tournament venue of Jakarta Convention Center (JCC) here.
South Korea won the 2017 Sudirman Cup held in Gold Coast, Australia last month with China being the runners-up.
China's Chen/Jia earned a total of 79,000 U.S. dollars in rewards, while the South Korean players received 38,000 dollars.
Two more Chinese pairs in the men's doubles and the mixed doubles will show up later on in the final matches this evening.
The tournament provides total rewards of 1 million dollars, the largest one so far from any tournaments sanctioned by Badminton World Federation (BWF) this year.