Chinese naval fleet departs for joint drill in Russia
2017-06-18 13:45:12 GMT
2017-06-18 21:45:12(Beijing Time)
Xinhua English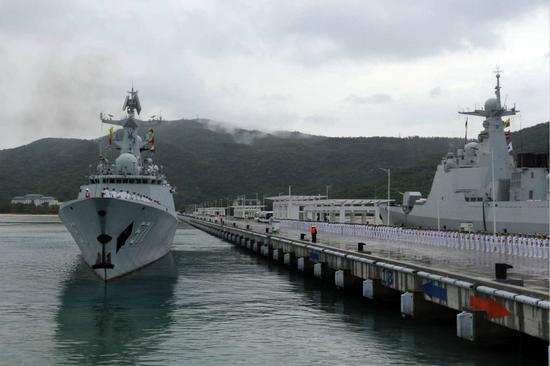 SANYA, June 18 (Xinhua) -- A Chinese naval fleet sailed out of aport in south China's Hainan Province Sunday for a scheduledmilitary exercise with the Russian navy in St. Petersburg andKaliningrad.
The fleet consists of one destroyer, one frigate, onecomprehensive supply ship, ship-borne helicopters and marines.
The drill is part of an annual program which aims to consolidateand advance the Sino-Russian comprehensive strategic partnership ofcoordination, and deepen friendly and practical cooperation betweenthe two militaries.
Code-named the "Joint Sea 2017" drill, it will also improvecoordination between the two navies on joint defense operations atsea.
According to consensus reached by the two countries, the twonavies are scheduled to hold military drill in waters of the BalticSea in late July and then the Sea of Japan and Okhotsk in middleSeptember.
This year's drill aims to jointly carry out rescue missions andprotect the safety of economic activities at sea.