Senior Chinese military official meets Vietnamese leaders on ties
2017-06-19 15:25:42 GMT
2017-06-19 23:25:42(Beijing Time)
Xinhua English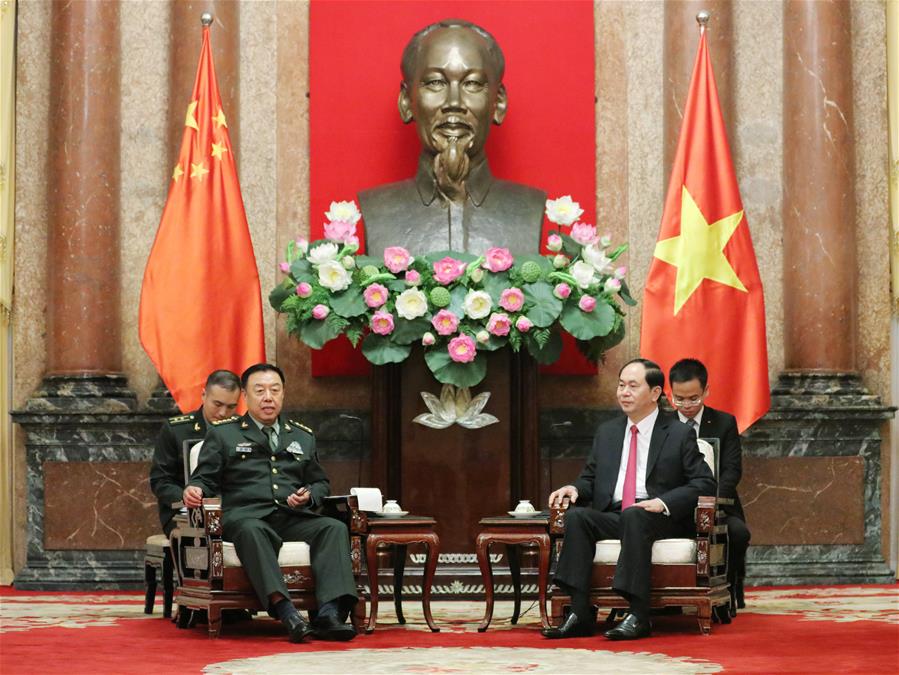 Fan Changlong (L), vice chairman of the Central Military Commission of China, meets with Nguyen Phu Trong, general secretary of the Central Committee of the Communist Party of Vietnam (CPV), in Hanoi, capital of Vietnam, June 18, 2017.(Xinhua/Li Xiaowei)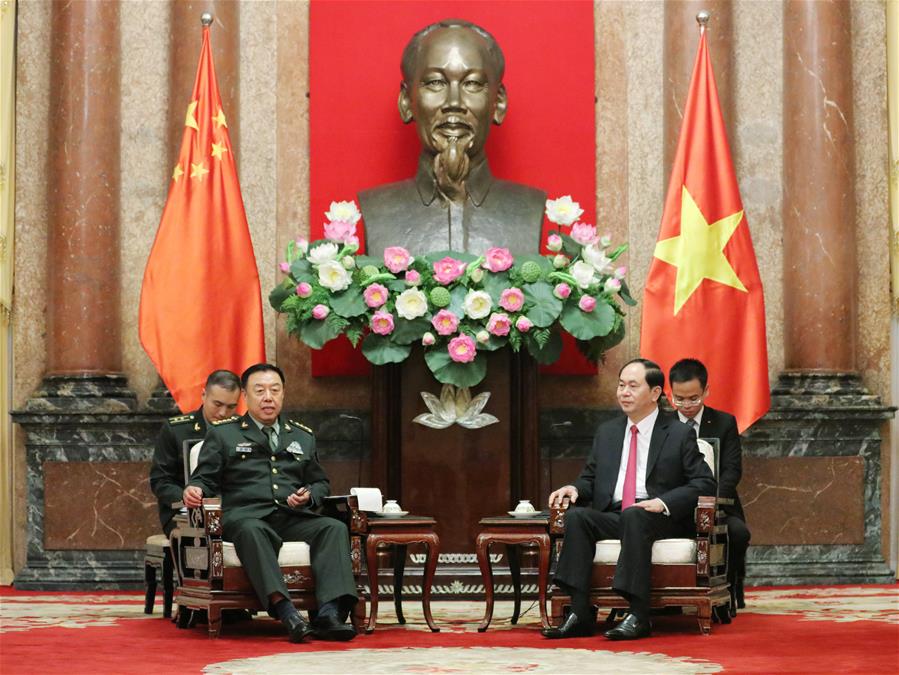 Fan Changlong (L), vice chairman of the Central Military Commission of China, meets with Vietnamese President Tran Dai Quang in Hanoi, capital of Vietnam, June 18, 2017.(Xinhua/Li Xiaowei)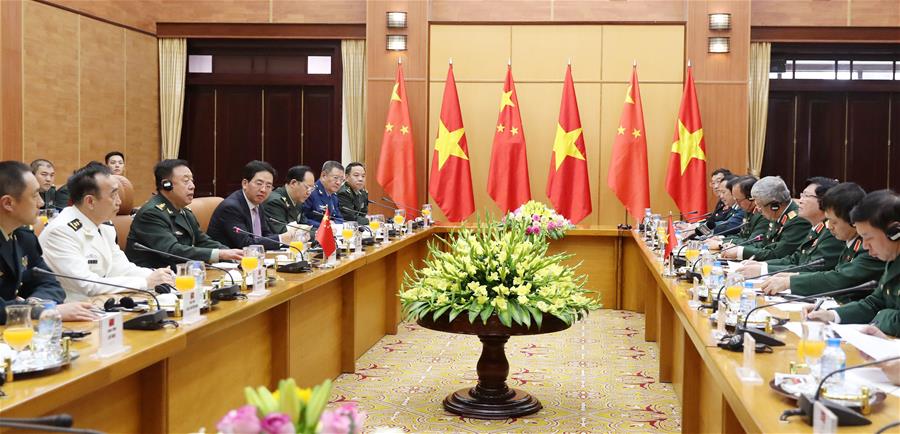 Fan Changlong (3rd L), vice chairman of the Central Military Commission of China, holds talks with Vietnamese Minister of Defense Ngo Xuan Lich (3rd R) in Hanoi, capital of Vietnam, June 18, 2017.(Xinhua/Li Xiaowei)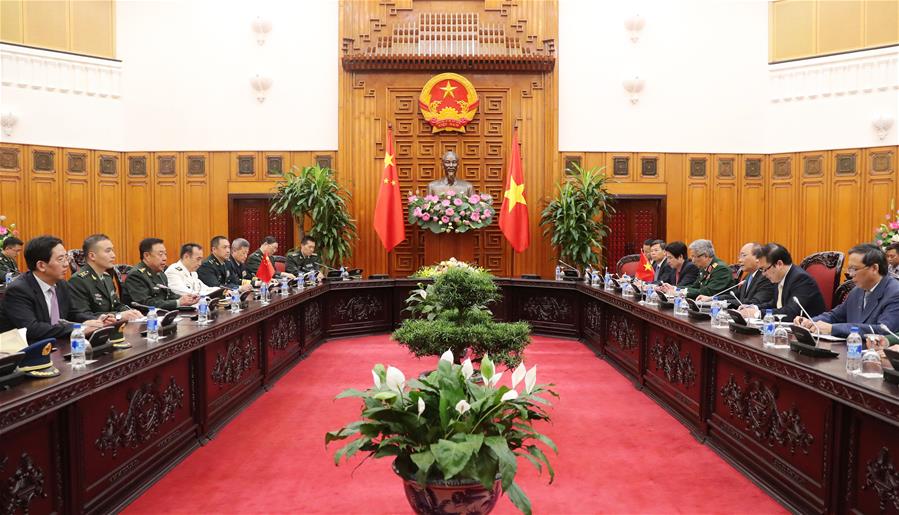 Fan Changlong (3rd L), vice chairman of the Central Military Commission of China, meets with Vietnamese Prime Minister Nguyen Xuan Phuc (3rd R) in Hanoi, capital of Vietnam, June 18, 2017.(Xinhua/Li Xiaowei)
HANOI, June 19 (Xinhua) -- Fan Changlong, vice chairman of the Central Military Commission of China, met with Vietnamese leaders on relations between the two countries and two militaries.
Fan met with Nguyen Phu Trong, general secretary of the Central Committee of the Communist Party of Vietnam (CPV), Vietnamese President Tran Dai Quang, Prime Minister Nguyen Xuan Phuc, and Vietnamese Defense Minister Ngo Xuan Lich on Sunday.
Thanks to the promotion of the leaders of both countries, the China-Vietnam relations are developing with good momentum and their cooperation has yielded results in various fields, said Fan.
"China is willing to cooperate with Vietnam in aligning its Belt and Road Initiative with Vietnam's Two Corridors and One Economic Circle plan, and push forward pragmatic cooperation in all fields for mutual development," he said.
The Silk Road Economic Belt and the 21st Century Maritime Silk Road Initiative, proposed by China in 2013, is aimed at building an infrastructure and trade network that spans across the globe, linking Asia with Europe and Africa, along the ancient Silk Road trading routes.
China has attached high importance to the development of military relations with Vietnam, and is willing to join hands with the Vietnam side to further push forward the ties, Fan said.
General Secretary of the CPV Central Committee Trong said Vietnam and China are friendly socialist neighbors, and relations between the two countries and two parties have maintained good momentum with deepening cooperation and exchanges in various fields.
President Quang said closer friendly cooperation between the two militaries will help deepen the mutual trust between the two countries and two parties, and facilitate their fruitful collaboration.
Prime Minister Phuc said Vietnam is ready to make joint efforts with China to fully and effectively implement the Declaration on the Conduct of Parties in the South China Sea and reach agreement on a code of conduct in the South China Sea through consultations at an early date.
Defense Minister Lich said the ties between the two militaries have seen substantial progress in recent years, with sound cooperation in border defense, peacekeeping and search and rescue at sea.
He said the Vietnamese military is willing to join hands with its Chinese counterpart to deepen communication and cooperation, and carry forward their solidarity and friendship.
Regarding the South China Sea issue, Fan stressed that the South China Sea islands have been China's territory since ancient times.
He noted that the current situation in the South China Sea has been stabilized and is turning positive, adding that this situation is a hard-won result.
The senior Chinese military official called on both sides to abide by the important consensus reached by the leaders of the two countries and two parties.
"The two sides should enhance their strategic communication and properly manage and control their differences so as to maintain their overall relations as well as the peace and stability in the South China Sea," he said.