Panda twins celebrate first birthday at Chongqing Zoo
2017-07-11 07:50:41 GMT
2017-07-11 15:50:41(Beijing Time)
Xinhua English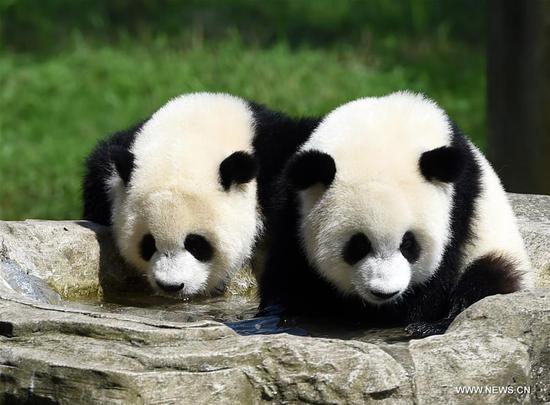 Giant panda twins "Yu Bao" and "Yu Bei" play at Chongqing Zoo in Chongqing, southwest China, July 11, 2017. The zoo held a party celebrating the first birthday of giant panda twins "Yu Bao" and "Yu Bei" on Tuesday. (Xinhua/Tang Yi)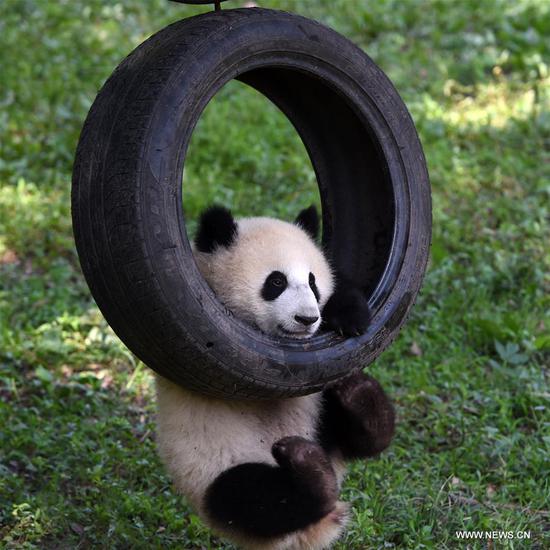 One of the giant panda twins plays on a swing at Chongqing Zoo in Chongqing, southwest China, July 11, 2017. The zoo held a party celebrating the first birthday of giant panda twins "Yu Bao" and "Yu Bei" on Tuesday. (Xinhua/Tang Yi)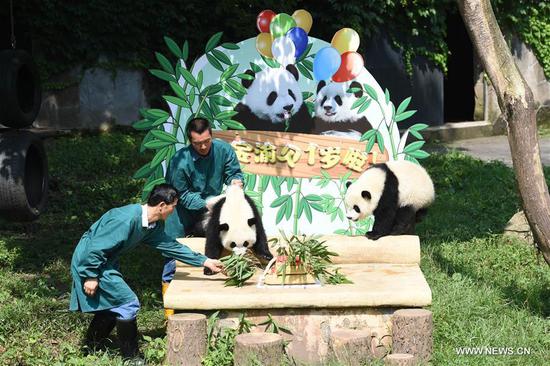 Giant panda twins "Yu Bao" and "Yu Bei" eat birthday cake at Chongqing Zoo in Chongqing, southwest China, July 11, 2017. The zoo held a party celebrating the first birthday of giant panda twins "Yu Bao" and "Yu Bei" on Tuesday. (Xinhua/Tang Yi)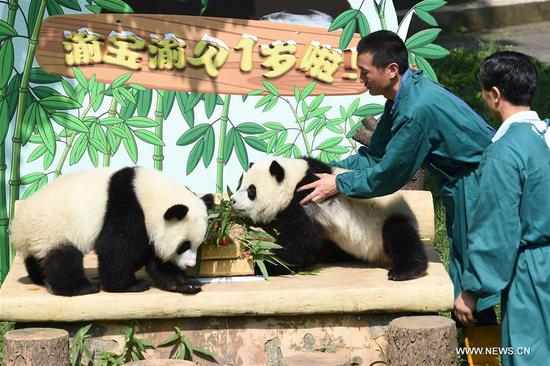 Giant panda twins "Yu Bao" and "Yu Bei" eat birthday cake at Chongqing Zoo in Chongqing, southwest China, July 11, 2017. The zoo held a party celebrating the first birthday of giant panda twins "Yu Bao" and "Yu Bei" on Tuesday. (Xinhua/Tang Yi)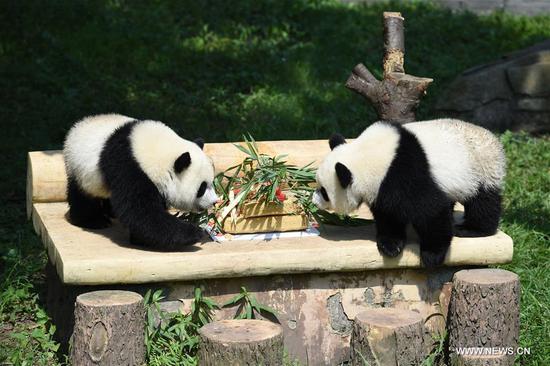 Giant panda twins "Yu Bao" and "Yu Bei" eat birthday cake at Chongqing Zoo in Chongqing, southwest China, July 11, 2017. The zoo held a party celebrating the first birthday of giant panda twins "Yu Bao" and "Yu Bei" on Tuesday. (Xinhua/Tang Yi)
CHONGQING, July 11 (Xinhua) -- A set of panda twins celebratedtheir first birthday at a zoo in southwest China's ChongqingMunicipality Tuesday.
Yu Bao and Yu Bei were born on July 11, 2016. The male andfemale siblings now weigh 28 kilograms each and are both in goodhealth.
The zoo invited local children to join the birthday party, whichincluded a birthday cake decorated with bamboo leaves and bambooshoots for the pandas.
Despite the recent hot weather, the pandas celebrated in theiroutdoor playground, climbing trees and playing on a swing.
One year for pandas are equivalent to four years for humanbeings, a zoo staff member said.
Chongqing Zoo began a giant panda breeding program in 1960 andis currently home to 15 pandas. Enditem