Death toll from Nepal floods and landslides exceeds 40, 36 missing
2017-08-13 09:10:23 GMT
2017-08-13 17:10:23(Beijing Time)
Xinhua English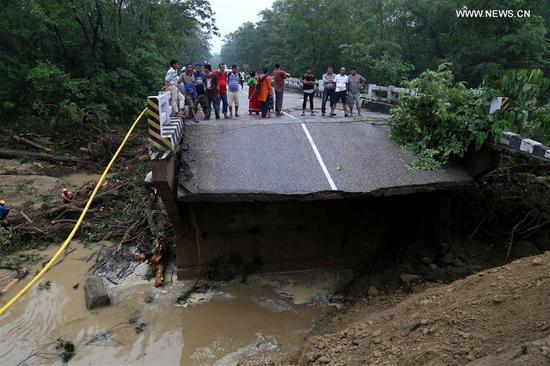 People watch the collapsed bridge caused by a flood at Gandheli river, along the East-West Highway in Nepalgunj on Aug. 13, 2017. Floods and landslides triggered by incessant rainfall since Friday have killed at least 40 people in Nepal by Sunday afternoon, according to the Ministry of Home Affairs. (Xinhua)
KATHMANDU, Aug. 13 (Xinhua) -- Floods and landslides triggeredby incessant rainfall since Friday have killed at 40 people inNepal by Sunday afternoon, according to the Ministry of HomeAffairs.
At least 36 persons others have gone missing in the disaster inthe low-lying areas, over 20 have been injured and thousands offamilies have been displaced.
In a latest tragedy, a pregnant woman, 27-year-old SharmilaYadav, in labor pain along with five other family members who werein the same jeep died on her way to the hospital after the vehicleplunged into the floodwater in Nepal's eastern district Rautahat onSunday morning.
Police recovered six bodies in total including that of herhusband Chandan Kishor Yadav, three-year-old daughter Choti KumarYadav, mother-in-law, aunt and brother-in-law from the floodedhighway.
The Yadav family was rushing towards the hospital located atRajpur in the India-bordering district after the pregnant womancomplained of labor pain.
Home ministry has mentioned that plain districts Jhapa, Morang,Sunsari, Saptari, Rautahat, Sarlahi, Dang and Banke districts aremost affected by floods. The water level in many rivers has crossedthe danger mark and changed their course, with a threat to housesand livelihood.
Security agencies including Nepal Police, Nepal Army and ArmedPolice force have been mobilized in Terai districts for the reliefand rescue operation.
On Sunday, Home Minister Janardan Sharma inspected the floodedregion and directed the concerned agencies to expedite the rescueefforts.
Meanwhile, many highway bridges which serve as the lifeline ofthe entire country have been damaged, obstructing the vehicularmovement for relief and rescue programs. In many places,helicopters have been failing to operate due to bad weather.
The Meteorological Forecasting Division has forecast thatmonsoon would remain active across the country for the next fewdays. Enditem