China marks centenary of former senior official
2017-09-06 22:21:08 GMT
2017-09-07 06:21:08(Beijing Time)
Xinhua English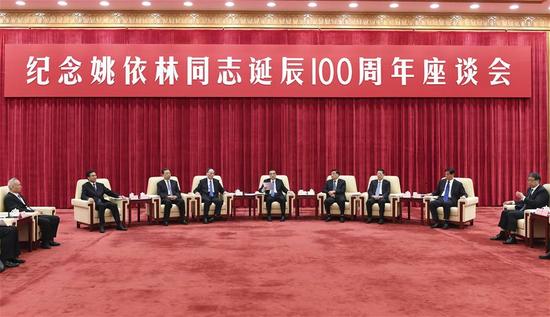 Chinese Premier Li Keqiang (C) speaks at a symposium held to commemorate the centenary of the birth of late Chinese Vice Premier Yao Yilin at the Great Hall of the People in Beijing, capital of China, Sept. 6, 2017. Member of the Secretariat of the Communist Party of China (CPC) Central Committee Liu Yunshan, head of the CPC Central Commission for Discipline Inspection Wang Qishan, and Vice Premier Zhang Gaoli, who are all members of the Standing Committee of the Political Bureau of the CPC Central Committee, also attended the symposium. (Xinhua/Gao Jie)
BEIJING, Sept. 6 (Xinhua) -- A symposium was held at the Great Hall of the People on Wednesday to commemorate the centenary of the birth of late Chinese Vice Premier Yao Yilin.
Chinese Premier Li Keqiang attended the symposium, and met with Yao's relatives.
Member of the Secretariat of the Communist Party of China (CPC) Central Committee Liu Yunshan, head of the CPC Central Commission for Discipline Inspection Wang Qishan, and Vice Premier Zhang Gaoli, who are all members of the Standing Committee of the Political Bureau of the CPC Central Committee, also attended the symposium.
"Yao was a great leader of the CPC and the country, an outstanding proletarian revolutionist, and a distinguished leader in economy," Li told the symposium, which was presided over by Li Zhanshu, member of the Political Bureau of the CPC Central Committee and director of the General Office of the CPC Central Committee.
Yao dedicated his whole life to the Party and the people, and had made immortal accomplishments in the independence and liberation of the Chinese nation, socialist revolution and construction, reform and opening up, and socialist modernization, Li said.
He had also made major contributions to improving the leadership of the CPC, maintaining social and political stability, reform, opening up and economic development, according to Li.
Yao, who died in 1994 at the age of 77, was vice premier from 1979 to 1993. He was also a member of the Secretariat of the CPC Central Committee and a member of the Political Bureau of the CPC Central Committee.
"By commemorating Comrade Yao Yilin, we are learning from his commitment to faith and dedication to ideals, his pragmatism, his determination to reform and courage," Li continued.
"We should also learn from his standpoint of the people, and his self-disciplined and frugal working style," he said.
Moreover, Li noted that the great cause pioneered by the older generation of revolutionists should be continued.