Hurricane Irma makes landfall in Florida Keys
2017-09-10 14:31:04 GMT
2017-09-10 22:31:04(Beijing Time)
Xinhua English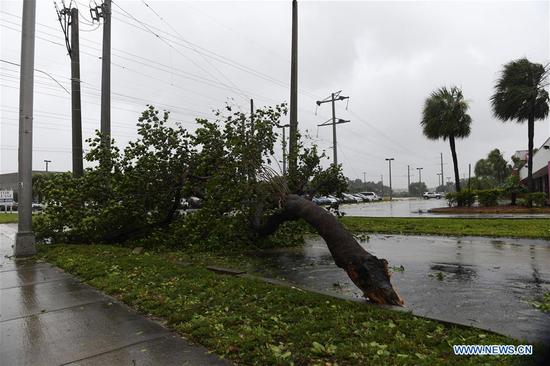 Trees and branches are seen on a street after being torn down by strong winds as hurricane Irma arrives, in Miami, Florida, the United States, on Sept. 10, 2017. Category Four Hurricane Irma on Sunday morning made landfall in the Florida Keys with gust wind speed of 171 km/h, according to the National Hurricane Center (NHC). (Xinhua/Yin Bogu)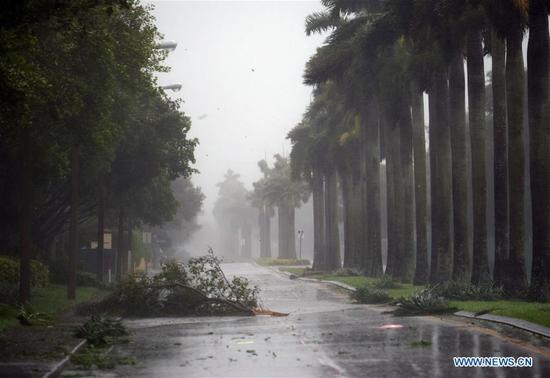 Trees and branches are seen on a street after being torn down by strong winds as hurricane Irma arrives, in Miami, Florida, the United States, on Sept. 10, 2017. Category Four Hurricane Irma on Sunday morning made landfall in the Florida Keys with gust wind speed of 171 km/h, according to the National Hurricane Center (NHC). (Xinhua/Yin Bogu)
MIAMI, the United States, Sept. 10 (Xinhua) -- Category Four Hurricane Irma on Sunday morning made landfall in the Florida Keys with gust wind speed of 171 km/h, according to the National Hurricane Center (NHC).
The landfall occurred at the Cudjoe Key in the lower Florida Keys, the NHC said in an advisory.
Irma now has a maximum sustained wind speed of 215 km/h, and is moving northwest at 13 km/h, it is expected to hit continental United States later today, according to the NHC.