NBA China and Mission Hills to establish NBA Basketball School
2017-09-12 13:26:12 GMT
2017-09-12 21:26:12(Beijing Time)
Xinhua English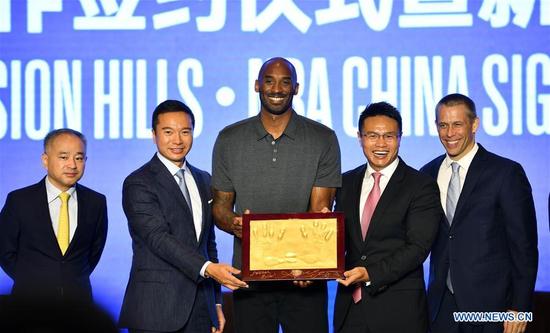 Former NBA basketball player Kobe Bryant (C) poses during a signing ceremony in Haikou, capital of south China's Hainan Province, Sept. 12, 2017. China's Mission Hills Group and NBA China announced on Tuesday a longterm partnership to design, develop and operate an NBA Basketball School as well as an NBA interactive experience and store in Haikou. (Xinhua/Guo Cheng)
HAIKOU, China, Sept. 12 (Xinhua) -- Five-time NBA champion and18-time NBA All-Star Kobe Bryant on Tuesday showed up at a signingceremony, at which Mission Hills Group and NBA China announced alongterm partnership to design, develop and operate an NBABasketball School as well as an NBA interactive experience andstore in Haikou, capital city of Hainan Province.
The NBA Basketball School in Mission Hills Haikou will be opento male and female players, from junior level to professionals.Construction of the facility will begin later this year and will becompleted in 2019.
The school will include six indoor courts and other professionalfacilities. Mission Hills Group will be responsible for designingand building the school, while NBA China will operate and staff thefacility with NBA-trained coaches and provide the basketballdevelopment curriculum. NBA players and legends will visit theschool to provide additional instruction and help foster playersdevelopment.
The NBA interactive experience and store will be located atMission Hills Centreville, a 240,000-square-meter shopping andentertainment complex located within the 22-square-kilometreMission Hills Haikou resort. It will be a multimedia exhibition andretail space celebrating the league's history and providing fanswith a broad assortment of merchandise for men, women and kids,including jerseys, fan apparel, basketballs and accessories.
Bryant said that he was excited to be in Haikou to celebrate thegreat partnership between NBA China and Mission Hills Group. TheChinese youth will benefit from a complete approach to playerdevelopment that combines NBA-quality coaching with NBA-leveltraining. "I believe this partnership will lift the game ofbasketball to a higher level in China," he added.