Apple rolls out new smartphones
2017-09-12 22:10:34 GMT
2017-09-13 06:10:34(Beijing Time)
Xinhua English
Apple's Chief Executive Officer (CEO) Tim Cook introduces new iPhone X during a special event in Cupertino, California, the United States on Sept. 12, 2017. Apple Inc. released a series of new products and services in Cupertino on Tuesday. (Xinhua)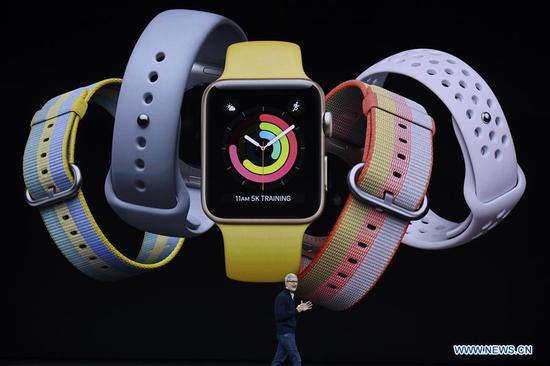 Apple's Chief Executive Officer (CEO) Tim Cook introduces new Apple Watch products during a special event in Cupertino, California, the United States on Sept. 12, 2017. Apple Inc. released a series of new products and services in Cupertino on Tuesday. (Xinhua)
Apple's Chief Executive Officer (CEO) Tim Cook introduces new iPhone X during a special event in Cupertino, California, the United States on Sept. 12, 2017. Apple Inc. released a series of new products and services in Cupertino on Tuesday. (Xinhua)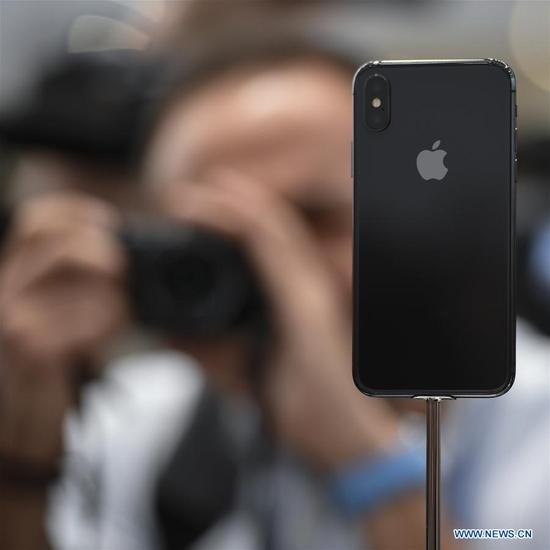 A man takes photos of new iPhone X displayed during a special event in Cupertino, California, the United States on Sept. 12, 2017. Apple Inc. released a series of new products and services in Cupertino on Tuesday. (Xinhua)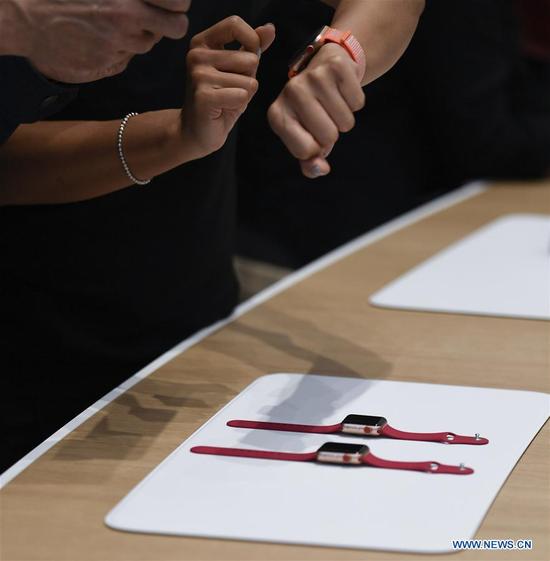 People try new Apple Watch during a special event in Cupertino, California, the United States on Sept. 12, 2017. Apple Inc. released a series of new products and services in Cupertino on Tuesday. (Xinhua)
SAN FRANCISCO, Sept. 12 (Xinhua) -- Apple Inc. rolled outTuesday its latest version of iPhone with new features on the 10thanniversary of its line of smartphone.
Tim Cook, Apple chief executive officer (CEO), brieflyintroduced the new phone, named iPhone 8, while other executivesprovided more details about the flagship product.
With new camera, other new hardware components and new softwareto support the hardware, iPhone 8 is claimed to be able to bringbetter pictures, videos and games, plus augmented reality (AR)features.
AR is a technology that superimposes a computer-generated imageon a user's view of the real world, thus providing a compositeview.
In addition, in what Cook called "one more thing," Apple alsointroduced iPhone X, a smartphone apparently slightly more distantthan all previous versions from the original iPhone, whichinaugurated 10 years ago.
For instance, it has what is called "face ID," for logging intothe device with the user's face.
The special event at the Steve Jobs Theater, inside thetechnology company's new headquarters complex, known as Apple Park,in Cupertino, Northern California, was anticipated because anupgraded version of iPhone is expected as the smartphone's 10thanniversary edition.
The iPhone X, literally iPhone 10, is Apple's response to theanticipation.
It was on Jan. 9, 2007, that Steve Jobs, the late CEO and Cook'simmediate predecessor, introduced iPhone as "a revolutionaryproduct." Enditem