Chinese architect Zhang Ke wins 2017 Alvar Aalto Medal
2017-09-12 22:20:48 GMT
2017-09-13 06:20:48(Beijing Time)
Xinhua English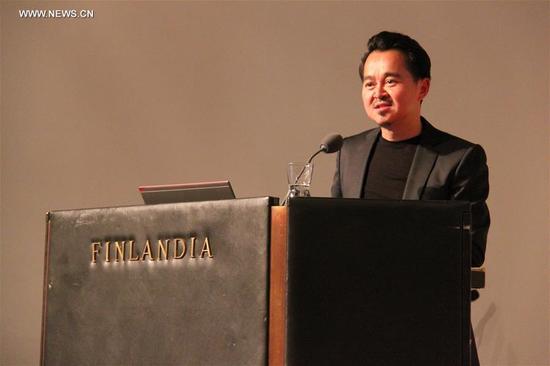 Chinese architect Zhang Ke delivers a speech after he was awarded 2017 Alvar Aalto Medal in Helsinki, Finland on Sept. 12, 2017. Chinese architect Zhang Ke was awarded 2017 Alvar Aalto Medal, one of the most internationally recognized architecture prizes, Finland's Alvar Aalto Foundation announced on Tuesday. (Xinhua)
HELSINKI, Sept. 12 (Xinhua) -- Chinese architect Zhang Ke wasawarded 2017 Alvar Aalto Medal, one of the most internationallyrecognized architecture prizes, Finland's Alvar Aalto Foundationannounced on Tuesday.
The medal was issued jointly by the Alvar Aalto Foundation, theMuseum of Finnish Architecture, the Architectural Society, theFinnish Association of Architects SAFA and the City ofHelsinki.
The 2017 prize was awarded for the 13th time at a jubileeseminar to mark its 50th anniversary. This year's award focusesparticularly on promising young architects.
The foundation said, "Zhang Ke prefers to use local buildingmaterials and techniques, while he favors recycling overdemolishing." The medalist impressed the jury with his sustainablearchitecture.
The jury praised Zhang's work, as he uses historic references toserve the preservation of traditions. "By combining landscapeelements in his work, Zhang Ke is able to subtly fit hisarchitecture into the surrounding terrain, creating harmoniousrelationships between landscape and architecture," said thefoundation.
In a time of political unrest worldwide, the medal should bededicated to humanism in architecture, emphasized the jury.
Zhang told Xinhua that he was very proud to be the first Chineseto win the prize as the award has been given to only one personeach time and issued only once every a few years.
He believed the award was an encouragement to the whole Chinesearchitecture. "China is witnessing a culture revival, and what isneeded the most is the respect of history and the urbanenvironment."
Born in 1970, Zhang Ke graduated from Qinghua University and theHarvard Graduate School of Design. He is the founder of theZAO/standardarchitecture, which is one of the leading design firmsin China. He is a guest professor in Harvard University.
Since 2006, Zhang Ke has won several domestic and internationalarchitectural design prizes. His design works have been exhibitedat international architectural events in Germany, France, Italy,the Netherlands, Austria, among other countries.
The Alvar Aalto Medal has been awarded intermittently since1967, and it was set in honor of Alvar Aalto, the most famousarchitect in Finland and a representative of the Nordic style. Theaward is conferred to individuals and firms internationally inrecognition of a significant contribution to creative architecture.