Xi, Putin send congratulatory messages to first China-Russia university
2017-09-13 13:00:54 GMT
2017-09-13 21:00:54(Beijing Time)
Xinhua English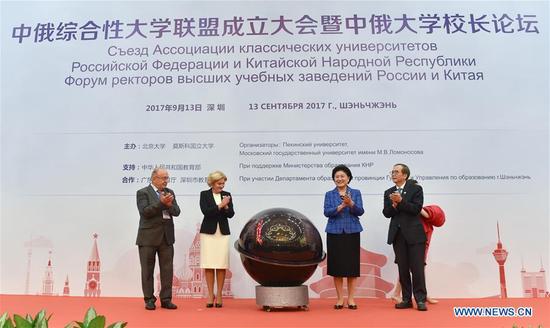 Chinese Vice Premier Liu Yandong (2nd R) and Russian Deputy Prime Minister Olga Golodets (2nd L) attend a ceremony to establish the Sino-Russian comprehensive university alliance as well as a forum attended by university presidents from China and Russia, in Shenzhen, south China's Guangdong Province, Sept. 13, 2017. (Xinhua/Mao Siqian)
SHENZHEN, Sept. 13 (Xinhua) -- Chinese President Xi Jinping andRussian President Vladimir Putin on Wednesday both sentcongratulatory messages to celebrate the inaugural semester ofShenzhen MSU-BIT University, the first joint Sino-Russianuniversity.
Xi said that education is a major impetus for the development ofa country and a key bond to promote exchanges between differentpeoples.
There has been close contacts between universities from bothcountries in recent years, as China and Russia have undertakenin-depth cooperation in education, said Xi, adding that thecooperation has played a positive role in promoting mutualunderstanding between the two peoples as well as the development ofthe Sino-Russian comprehensive strategic partnership ofcoordination.
"Under an agreement reached by President Putin and I, theestablishment of Sino-Russian Shenzhen MSU-BIT University is animportant achievement in bilateral cultural and people-to-peopleexchanges and is of great demonstration significance," said Xi inthe message.
He encouraged education officials and teachers from bothcountries to look to each other's advantages and the potential forcooperation to speed up the future development of the university,build a high-level university and train top-quality talent, thuscontributing to Sino-Russian educational cooperation and bilateralfriendship.
Calling educational cooperation a key component of theRussia-China strategic partnership, Putin said in his message thatdirect contact between universities in both countries has expandedyear by year; the scale of student exchanges has been improved andhigh school students from both countries have formed a tradition tohave holiday in the other country's national resorts.
He said he believes that the Russia-China university, founded onthe basis of two well-known universities from Beijing and Moscow,will further enhance friendship and understanding between the twopeoples and that graduates from the university will become soughtafter in Russia, China and around the world.
Shenzhen MSU-BIT University, located in the south China city ofShenzhen, is a university jointly founded by the Shenzhen municipalgovernment, Beijing Institute of Technology (BIT) and Russia'sLomonosov Moscow State University (MSU).