China to improve digital reading resources for visually impaired
2017-09-13 16:06:04 GMT
2017-09-14 00:06:04(Beijing Time)
Xinhua English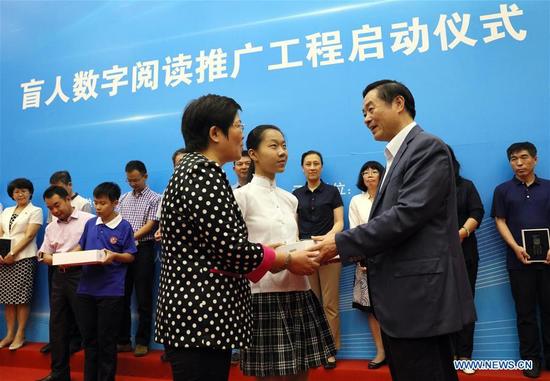 Liu Qibao (R front), a member of the Political Bureau of the Communist Party of China (CPC) Central Committee and head of the Publicity Department of the CPC Central Committee, distributes smart reading machines and other braille reading devices to the library and education facilities for the visually impaired at the launch ceremony of a campaign to increase digital reading resources for the blind and visually impaired, in Beijing, capital of China, Sept. 13, 2017. (Xinhua/Liu Weibing)
BEIJING, Sept. 13 (Xinhua) -- China's central authorities,including the Ministry of Finance and Ministry of Culture, onWednesday jointly launched a campaign to increase digital readingresources for the blind and visually impaired.
The launch ceremony, held at the National Library of China, wasattended by Liu Qibao, a member of the Political Bureau of theCommunist Party of China (CPC) Central Committee and head of thePublicity Department of the CPC Central Committee, who distributedsmart reading machines and other braille reading devices to thelibrary and education facilities for the visually impaired.
The campaign aims to provide convenient braille reading servicessuch as digital audio books and electronic braille for thecountry's 17 million visually impaired citizens.
Central authorities will initially provide 200,000 readingmachines to 400 libraries equipped with reading rooms for thevisually impaired, which readers can use for free.
The private sector is also encouraged to play a proactive rolein improving the country's digital reading resources. Enditem