Del Potro rallies to beat Zverev in Shanghai
2017-10-13 02:09:03 GMT
2017-10-13 10:09:03(Beijing Time)
Xinhua English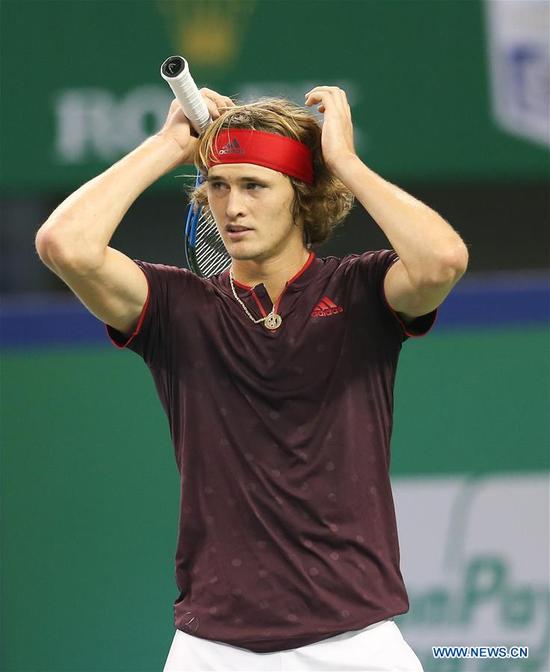 Alexander Zverev of Germany reacts during the singles third round match against Juan Martin Del Potro of Argentina at 2017 ATP Shanghai Masters tennis tournament in Shanghai, east China, on Oct. 12, 2017. Alexander Zverev lost 1-2. (Xinhua/Ding Ting)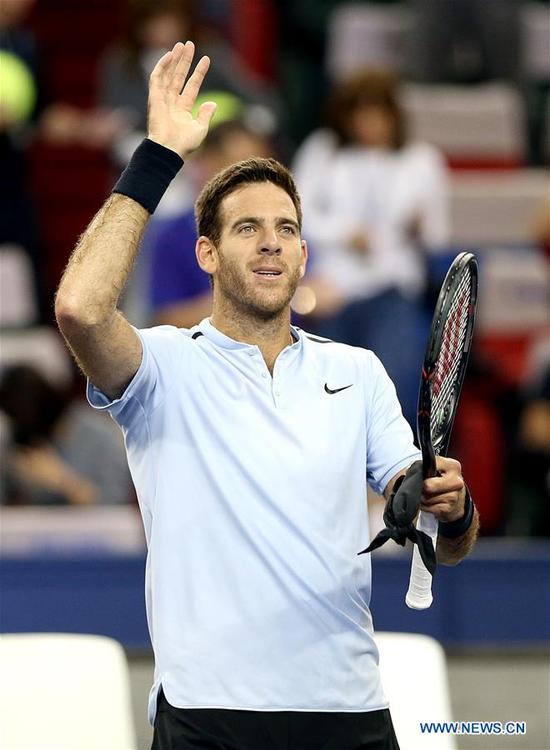 Juan Martin Del Potro of Argentina waves to the spectators after winning the singles third round match against Alexander Zverev of Germany at 2017 ATP Shanghai Masters tennis tournament in Shanghai, east China, on Oct. 12, 2017. Juan Martin Del Potro won 2-1. (Xinhua/Fan Jun)
SHANGHAI, Oct. 12 (Xinhua) -- NO.16 seed Juan Martin del Potro of Argentina produced one of his best performances of the season here on Thursday, overcoming one-set defict to beat third-seeded Alexander Zverev of Germany 3-6, 7-6(5), 6-4 to reach the Shanghai Rolex Masters quarter-finals.
The 20-year-old Zverev, who has collected 5 ATP World Tour titles this season, lost his temper when broken by the Argentine at 2-2 in the decider and flung his racquet down to the ground.
"I think he played a great match, maybe one of the best of the season. I think we both played pretty well from the baseline...but for me, in my eyes it's impossible to lose a match where I get broken one time and I still lose it except if you play against Isner or Karlovic, someone like that.," Zverev said after the match.
Zverev came to the match strong and raced to a 3-0 lead in the first set within 10 minutes. But Del Potro found his form in the second set, scored 5 love games and levelled the set-score with a 7-5 victory in the tiebreak.
"I think I didn't play well the first game of the match with my serve, but when I saw the stats on the TV, and I was winning more points returning than him, but I lost the set. I say to me, Okay, you're playing good. You have to just try to keep going. And that's what I did for the second and the third set," the 2009 US Open champion Del Potro said.
Zverev, who has already secured a berth in the ATP World Tour Finals in London, fired 22 Aces in the match, but couldn't find solutions when his opponent served.
Del Potro, the 2013 Shanghai Masters runner-up, will face either American no. 12 seed John Isner or Viktor Troicki of Serbia on Friday.