Drinking frequently kills new brain cells, especially for women: study
2017-11-10 06:21:09 GMT
2017-11-10 14:21:09(Beijing Time)
Xinhua English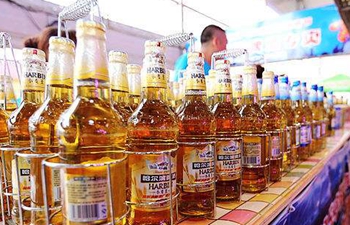 WASHINGTON, Nov. 9 (Xinhua) -- Frequent alcohol drinking killsnew cells in key brain regions, with females being more vulnerable,a new study on mice said Thursday.
Researchers from the University of Texas Medical Branch (UTMB)at Galveston discovered that alcohol killed the stem cells that areresponsible for creating new nerve cells and important tomaintaining normal cognitive function in adult mouse brains.
And for the first time, the research showed that brain changesdue to alcohol exposure are different for females and males.
The findings, published in the journal Stem Cell Reports, mayhelp open a door to combating chronic alcoholism.
For the study, UTMB researchers used a cutting-edge technique totag brain stem cells in order to observe how they migrate anddevelop into specialized nerve cells over time.
This allowed the researchers to study the impact of long-termalcohol consumption on the cells.
It showed that chronic alcohol drinking killed most brain stemcells and reduced the production and development of new nervecells.
However, the effects of repeated alcohol consumption differedacross brain regions.
The brain region most susceptible to the effects of alcohol wasone of two brain regions where new brain cells are created inadults.
The researchers also found that female mice displayed moresevere intoxication behaviors and more greatly reduced the pool ofstem cells in a brain region called the subventricular zone.
Ping Wu, UTMB professor in the department of neuroscience andcell biology, who led the study, said in a statemenet that thediscovery "provides a new way of approaching the problem ofalcohol-related changes in the brain."
"We need to understand how alcohol impacts the brain stem cellsat different stages in their growth, in different brain regions andin the brains of both males and females," Wu said.