Armenia beat Cyprus 3-2 in friendly
2017-11-14 02:17:37 GMT
2017-11-14 10:17:37(Beijing Time)
Xinhua English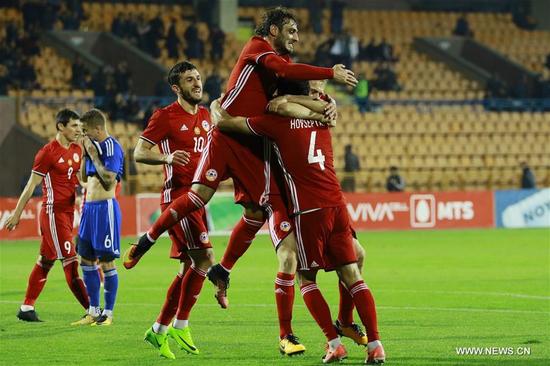 Armenia's players celebrate during a friendly soccer match with Cyprus in Yerevan, Armenia, Nov 13, 2017. Armenia won 3-2. (Xinhua/Gevorg Ghazaryan)
YEREVAN, Nov. 13 (Xinhua) -- Armenia beat Cyprus 3-2 in afriendly match at the Vazgen Sargsyan Stadium here on Monday.
Armenia's Haik Ishkhanyan scored the opener in the 17th minutefor his first goal for the national squad in his only secondappearance for Armenia.
Varazadat Haroyan doubled the score with a spectacular header inthe 38th minute before the Cypriots pulled one back on KonstantinosLaifis in the 50th minute.
Manchester United's Henrikh Mkhitaryan scored a flawless penaltyafter Armenia's Tigran Barseghyan was fouled in the 63rd minute tomake it 3-1.
Cyprus managed to close it again but were not good enough tostop Armenia from nailing down another win after crushing Belarus4-1 last Thursday.