LeBron James congratulates Lakers new star for breaking his record of youngest triple-double
2017-11-14 02:09:02 GMT
2017-11-14 10:09:02(Beijing Time)
Xinhua English
LOS ANGELES, Nov. 13 (Xinhua) -- Cleveland Cavaliers superstarLeBron James on Monday delivered a congratulation to Los AngelesLakers point guard Lonzo Ball, who became the youngest player inNBA history to record a triple-double two days ago.
At 20 years and 15 days old, Ball last Saturday set the newrecord in the game against the Milwaukee Bucks with 19 points, 13assists, 12 rebounds, 4 blocks and 3 steals, surpassing LeBronJames' record by five days, which was been set on 2004-2005season.
According to the Lakers, the last rookie to get a triple-doublewith at least 19 points, 13 assists, 12 rebounds and 3 stealsbefore Ball was NBA legend superstar Michael Jordan, who did so in1985.
Before Monday night's game against the New York Knicks, Jamestold ESPN that Ball's performance revived his memory of more than adecade ago when he became one of the last players that made thetrip straight from high school right into the NBA then ascendedinto stardom.
"I definitely think back to when I was that young. There's notmany games that I can remember when I was 20 years old or 19 oreven 18. So first of all, congratulations to him," James toldESPN.
"I think he's going to be a really, really good point guard inour league, probably a great point guard if he continues to work onhis craft, which it seems like he does."
Lakers coach Luke Walton also told the Los Angeles times Sundaythat he though Ball's performance was cool.
"I would think it was cool," Walton said. "Whether he thinks it's cool, Zo's a tough one to figure out, so you're gonna have to askhim. But I would think it's a pretty cool record to have."
However, Ball didn't care much about it as the Lakers lost thegame 98-90, giving them three straight losses on their roadtrip.
Ball, born in the Los Angeles metropolitan area, was selectedwith the second overall pick in the 2017 NBA draft by the Lakersand signed a four-year rookie scale contract with the Lakers thissummer.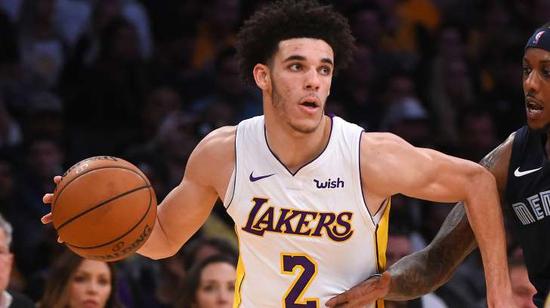 During the 2017 NBA Summer League in Las Vegas, Ball was thenamed the league MVP after averaging 16.3 points, 9.3 assists, 7.7rebounds, 2.5 steals, and 1.0 blocks per game. He had twotriple-doubles, the first in the Summer League since 2008 and thefirst ever in Vegas by a rookie.
James had his eye on Ball attending a summer league game towatch him play as well as sending him a special Happy Birthdaymessage on Twitter at that time.
Ball, who played 13 games for Lakers so far, showed outsurprised energy with 29 points, 11 rebounds, and 9 assists in a132-130 win against the Phoenix Suns on Oct. 20.
Like other achieved super stars, the rookie also has his ownT.V. show, an eponymous brand that features his own signature shoeand clothing line.