CBA Roundup: Liaoning smash Qingdao, Beikong trounced by Fujian
2017-11-15 02:00:44 GMT
2017-11-15 10:00:44(Beijing Time)
Xinhua English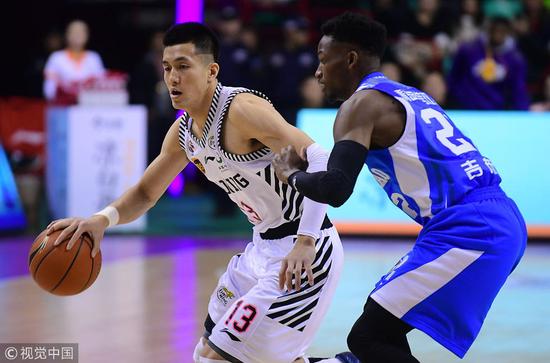 CHANGCHUN, China, Nov. 14 (Xinhua) -- Liaoning, newly crowned at the 2017 National Games, defeated Qingdao 110-92 as Qingdao suffered the seventh straight loss, while Fujian won fourth straight in the eighth round of the Chinese Basketball Association (CBA) league on Tuesday night.
Facing Qingdao, Liaoning managed to get a 63-44 lead to force game into garbage time early in the first half.
Although Qingdao tried to narrow the gap in the next half, Guo Ailun and Lester Hudson formed a strong backcourt tandem to consecutive score for Liaoning, closing the game with 110-92.
Guo Ailun contributed 30 points, 5 rebounds and 4 assists for Liaoning as the celebration to his 24th birthday.
Meanwhile Fujian trounced Beikong 91-75 with the top player Wang Zhelin absent, extending its winning streak to four games.
With three foreign players on the field, Beikong didn' t find an effective attack way.
Although Beikong overtook the lead in the opening, thanks to three-pointers from Xu Mengjun and Zaid Abbass. Russ Smith scored a game-high 42 points to lead Fujian win the game 91-75.
In the four round games, Fujian lost four straight for the worst start of the season. However, it catches up quickly with four straight victories.
In other matches played on Tuesday, Guangzhou beat Tongxi 115-96, Zhejiang humiliated Shanxi 109-104, Tianjin defeated Jilin 116-104.