China calls for more global cooperation in addressing steel overcapacity
2017-12-01 05:55:34 GMT
2017-12-01 13:55:34(Beijing Time)
Xinhua English
Brigitte Zypries (2nd R), German Federal Minister for Economic Affairs and Energy and Chair of the ministerial meeting of Global Forum on Steel Excess Capacity, delivers a speech during the meeting in Berlin, Germany, on Nov. 30, 2017. China called for more global cooperation in addressing the steel overcapacity across the world at the Ministerial meeting of Global Forum on Steel Excess Capacity held here on Thursday. (Xinhua/Shan Yuqi)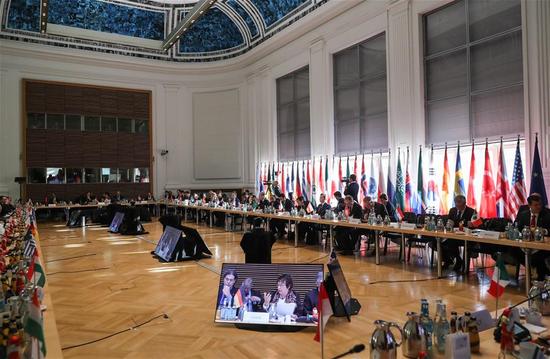 Photo taken on Nov. 30, 2017 shows a view of the ministerial meeting of Global Forum on Steel Excess Capacity in Berlin, Germany. China called for more global cooperation in addressing the steel overcapacity across the world at the Ministerial meeting of Global Forum on Steel Excess Capacity held here on Thursday. (Xinhua/Shan Yuqi)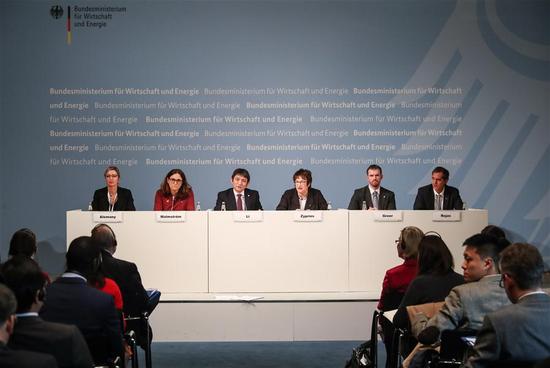 Li Chenggang (3rd L, Rear), Assistant Commerce Minister of China, speaks during a press conference following the ministerial meeting of Global Forum on Steel Excess Capacity in Berlin, Germany, on Nov. 30, 2017. China called for more global cooperation in addressing the steel overcapacity across the world at the Ministerial meeting of Global Forum on Steel Excess Capacity held here on Thursday. (Xinhua/Shan Yuqi)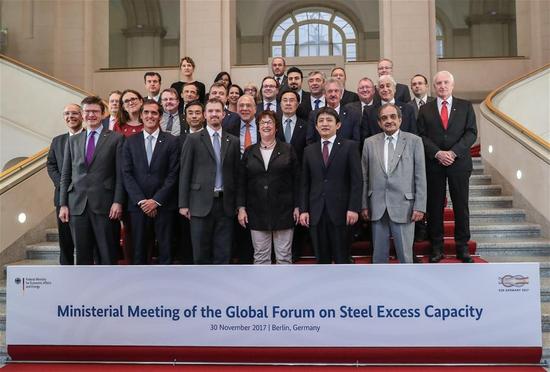 Delegates pose for a group photo after the ministerial meeting of Global Forum on Steel Excess Capacity in Berlin, Germany, on Nov. 30, 2017. China called for more global cooperation in addressing the steel overcapacity across the world at the Ministerial meeting of Global Forum on Steel Excess Capacity held here on Thursday. (Xinhua/Shan Yuqi)
BERLIN, Nov. 30 (Xinhua) -- China called for more globalcooperation in addressing the steel overcapacity across the worldon Thursday at the ministerial meeting of Global Forum on SteelExcess Capacity held in Berlin.
"Steel overcapacity is a common challenge facing countriesacross the world, rather than a problem unique to one country," LiChenggang, Assistant Commerce Minister of China, told a pressconference following the meeting.
He said the Chinese government has taken measures in recentyears to push forward the supply-side structural reform in thesteel sector and successfully reduced excess capacity by over 100million tons since 2016.
According to information shared among members of the GlobalForum on Steel Excess Capacity, from 2014 to 2016, China's capacityreduction is more than 120 percent of the total cut of the rest ofthe world.
All the cuts cost China a hefty price. Alone in 2016, 201,000steel workers were relocated in China, which is greater than therespective numbers of steel jobs in the U.S. and Japan.
Li emphasized, China takes the lead in eliminating steelovercapacity with self-aware, proactive, determined and persistentactions, making key contributions to the development of the globalsteel industry.
But China doesn't want to be the only one that is making painfulefforts, "while the rest of the world just watches", he said.
China welcomes the consensuses forged at the Forum and hopesthat moving forward, the members will further strengtheninformation sharing and cooperation to steer the steel industry, Lisaid.
Brigitte Zypries, German Federal Minister for Economic Affairsand Energy and Chair of the meeting, said, "I am delighted that theG20 countries and other OECD countries have been able to agree on areport on steel, setting out concrete recommendations for reducingglobal capacities in the steel sector."
According to the agreed report, the members will enhance themarket function, refrain from market-distorting subsidies and shareinformation for a greater transparency.
The Global Forum on Steel Excess Capacity was founded inDecember 2016 following the consensus of G20 Hangzhou Summit. Ithas a total of 33 members (G20 countries, interested OECD countriesand representatives of the OECD).
As required by the Hamburg G20 Declaration, the Global Forum isto deliver a substantive report with concrete policy solutions byNovember 2017, as a basis for tangible and swift policy action.