China hopes to strengthen exchanges with Rwanda: FM
2018-01-14 02:12:49 GMT
2018-01-14 10:12:49(Beijing Time)
Xinhua English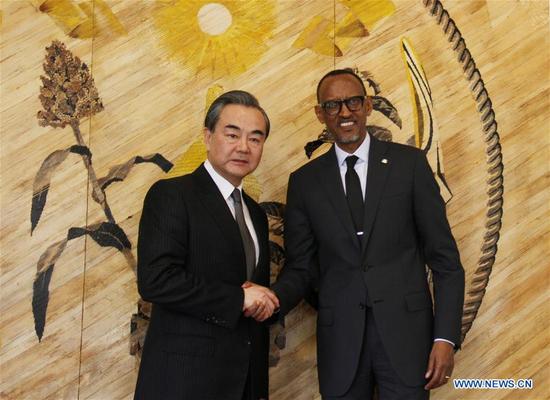 Chinese Foreign Minister Wang Yi (L) shakes hands with Rwandan President Paul Kagame during their meeting in Kigali, capital of Rwanda, on Jan. 13, 2018. (Xinhua/Lyu Tianran)
KIGALI, Jan. 13 (Xinhua) -- China is willing to strengthenexchanges with Rwanda in various fields from governance to culture,Chinese Foreign Minister Wang Yi said Saturday.
While meeting Rwandan President Paul Kagame in Rwandan capitalKigali, Wang hailed the good relations of the two countries markedby long-time mutual understanding, trust and support.
Rwanda has found a suitable development path supported by itspeople, Wang said, adding that China is willing to strengthenexchanges with Rwanda on governance experience and enhancepolitical mutual trust.
China also hopes to strengthen pragmatic cooperation withRwanda; to enhance cultural exchanges to boost mutualunderstanding; and to strengthen communication and coordination toimprove joint capacity of handling regional and internationalchallenges, said Wang.
On his part, Kagame said Africa trusts China and is willing tosee China playing a more important role on the continent.
The president thanked China for its support and contribution toRwanda's development and for choosing Rwanda as the first stop ofWang's African trip, which he said has important significance forfuture Sino-Rwandan relations.
Wang said China will give Kagame full support to perform hisduty as the rotating chairperson of the African Union, with thehope of enhancing Africa's unity and raising its global status.
He also said China expects to strengthen communication withRwanda to ensure that the Forum on China-Africa Cooperation summit,to be held in China this year, become a historic event tostrengthen the friendship and unity of China and Africa.
Wang, who is in Africa for his first new year trip, will alsovisit Angola, Gabon and Sao Tome and Principe.