Greece observes World Cancer Day
2018-02-04 02:47:15 GMT
2018-02-04 10:47:15(Beijing Time)
Xinhua English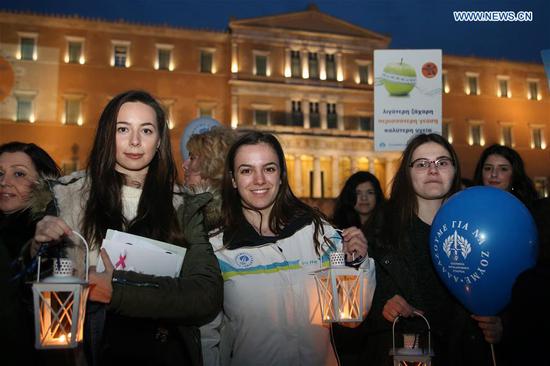 Volunteers from Greek Cancer Society hold small lanterns in the memory of people who lost their lives to cancer in Athens, Greece, on Feb. 3, 2018. Greece observed World Cancer Day on Saturday with a series of events aimed to raise awareness and help in the prevention of the disease and support of patients. (Xinhua/Marios Lolos)
ATHENS, Feb. 3 (Xinhua) -- Greece observed World Cancer Day on Saturday with a series of events aimed to raise awareness and help in the prevention of the disease and support of patients.
The motto of the day "We change to live" was projected onto the Greek Parliament building which was lit up.
"It is the moral obligation of the State and all relevant authorities to do everything possible, not just to limit the instances of cancer, but to render it a simple chronic illness," Deputy Speaker of parliament Marios Georgiades said in a statement for the initiative.
In front of the parliament, volunteers of the Greek Cancer Society were handing out informative leaflets, holding banners with slogans such as "I can. We can".
Others held small lanterns in the memory of people who lost their lives to cancer, as they reminded passers-by not to miss their checkups and adopt a healthy life style.
According to the World Health Organization (WHO), almost half of the most common types of the disease can be prevented.
The World Cancer Day, which falls on Feb. 4 every year, is an annual global event to raise awareness and help people battling cancer and their families.
In Greece, cancer is one of the leading causes of deaths, while more than 40,000 new cases reported on an annual basis on average in recent years, according to a press statement on the occasion of the day by Evangelos Filopoulos, President of the Greek Cancer Society.
In a press conference held earlier this week in Athens, according to local medical news website "Iatropedia", Greek oncologists referred to the remarkable results of the new treatments, as well as the difficulties patients and doctors face in debt-laden Greece.
For instance, the lack of a national registry of cancer patients so far does not help experts in extracting valuable data for their research, they noted.
The first steps are expected to be made by this spring, with the launch of a registry for four types of cancer, they said.
The past seven years of austerity cuts on healthcare spending have increased shortages in personnel and resources in state hospitals, which affect patients' treatment, according to Greek medical associations and labor unions of employees working at public hospitals.