S. Korean, DPRK athletes march together at Winter Olympics opening ceremony
2018-02-10 03:42:33 GMT
2018-02-10 11:42:33(Beijing Time)
Xinhua English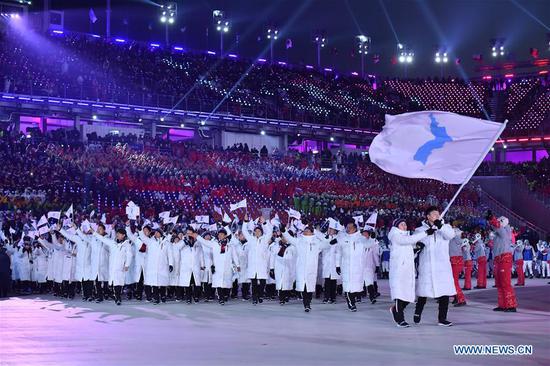 The Democratic People's Republic of Korea (DPRK) and South Korea marched together under a unified Korean flag during the opening ceremony of the 2018 PyeongChang Winter Olympic Games at PyeongChang Olympic Stadium in PyeongChang, South Korea, Feb. 9, 2018. (Xinhua/Lui Siu Wai)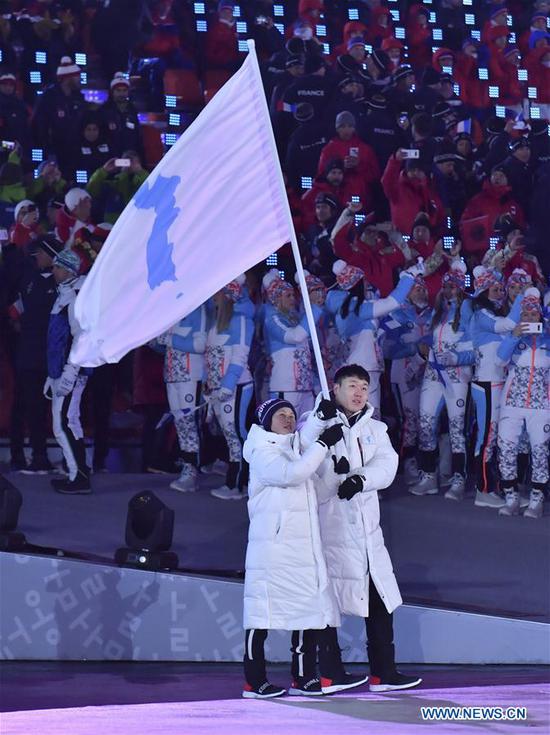 Flag bearer of the Democratic People's Republic of Korea (DPRK) Hwang Chung-gum (L) and flag bearer of South Korea Won Yun-jong march together under a unified Korean flag during the opening ceremony of the 2018 PyeongChang Winter Olympic Games at PyeongChang Olympic Stadium in PyeongChang, South Korea, Feb. 9, 2018. (Xinhua/Lui Siu Wai)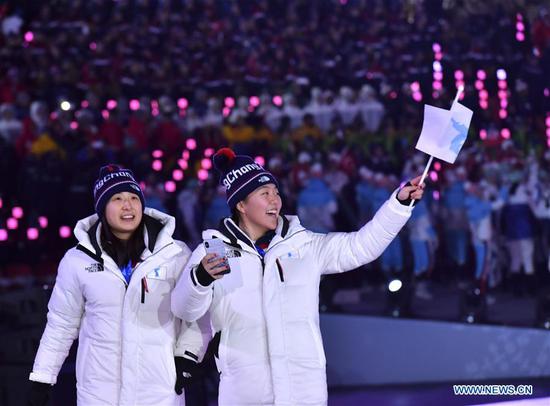 The Democratic People's Republic of Korea (DPRK) and South Korea march together under a unified Korean flag during the opening ceremony of the 2018 PyeongChang Winter Olympic Games at PyeongChang Olympic Stadium in PyeongChang, South Korea, Feb. 9, 2018. (Xinhua/Lui Siu Wai)
PYEONGCHANG, South Korea, Feb. 9 (Xinhua) -- Athletes from SouthKorea and the Democratic People's Republic of Korea (DPRK) marchedtogether under a unified Korean flag at the opening ceremony of the23rd Winter Olympics in South Korea's eastern county of PyeongChangon Friday.
Dressed in long, white padded jackets, they followed the flagwith a blue silhouette of the Korean Peninsula against a whitebackground. The athletes also held smaller unified flags aloft intheir right hand, waving them and smiling in front of thousands ofspectators.
The spectators included South Korean President Moon Jae-in, KimYong Nam, president of the Presidium of the DPRK Supreme People'sAssembly, and Kim Yo Jong, the younger sister of DPRK's top leaderKim Jong Un.
It marked the first time in 11 years that athletes from the twoKoreas walked under a unified flag at the opening ceremony of aninternational sports event.
The first time it had happened was at the opening ceremony ofthe Sydney Summer Olympics in 2000.
Since then, scenes of reconciliation between the two countrieswere seen under liberal South Korean presidents at the time, KimDae-jung and Roh Moo-hyun.
But such scenes disappeared over the past decade under theconservative governments of South Korea.
The PyeongChang Winter Olympics marked the 10th marchingtogether of athletes from the two Koreas under a unified flag atthe opening ceremonies of international sports competitions.
A high-ranking DPRK delegation arrived in South Korea earlier inthe day to attend the opening ceremony. It also includes Choe Hwi,chairman of the National Sports Guidance Committee, and Ri SonGwon, chairman of the Committee for the Peaceful Reunification ofthe Fatherland.
The four senior DPRK delegates will have a meeting and lunchwith President Moon on Saturday, according to South Korea'spresidential Blue House.