Unified Korean team suffers second loss, Switzerland tops Group B at women's ice hockey in PyeongChang
2018-02-13 02:10:31 GMT
2018-02-13 10:10:31(Beijing Time)
Xinhua English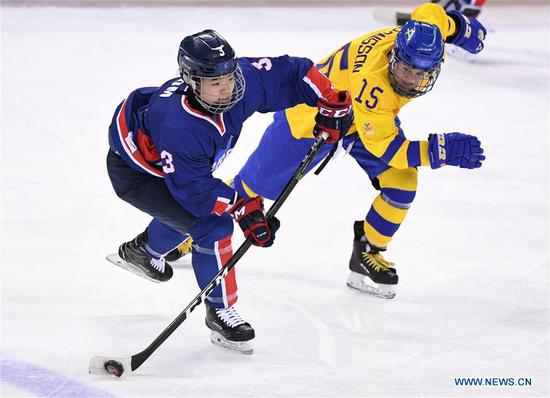 PYEONGCHANG, Feb. 12 (Xinhua) -- An unified Korea team was crushed by Sweden 8-0 on Monday night in women's ice hockey preliminaries at the PyeongChang Olympic Games while the Sochi bronze winner Switzerland beat Asian champion Japan 3-1 to top Group B with two wins.
With two straight loss, the prospect for the unified Korean team, the first of its kind in the Olympic history, into the playoffs became murkier, while Sweden was ranked second in the group with 1-1 win-loss record.
In an earlier game between Switzerland and Japan, twice Olympian Sara Benz made two goals in the second period to help her team build up winning momentum and Alina Muller contributed the third goal in the last period, when Hanae Kubo made a face-saving goal for Japan.
Japanese Rui Ukita was suspended from the game due to a disgraceful kicking motion in the direction of her opponent in the Japan-Sweden game on Saturday.
Eight teams are divided into two groups for competition in PyeongChang. In Group A, defending champion was ranked the first place followed by the Sochi silver medalist United States. Finland came in the third before Olympic Athlete from Russia on goal difference.