China Design Museum launches first exhibitions in Hangzhou
2018-04-09 02:47:08 GMT
2018-04-09 10:47:08(Beijing Time)
Xinhua English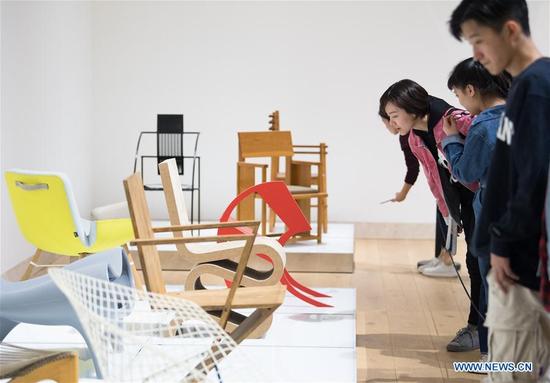 Visitors view a furniture exhibition at the China Design Museum in Hangzhou, east China's Zhejiang Province, April 8, 2018. Designed by Portuguese architect Alvaro Siza, the China Design Museum launched its first exhibitions when it was opened in Hangzhou on Sunday. With a floor area of 16,800 square meters, the museum is dedicated to the presentation and research of modern and contemporary designs while stimulating home-grown innovations. (Xinhua/Weng Xinyang)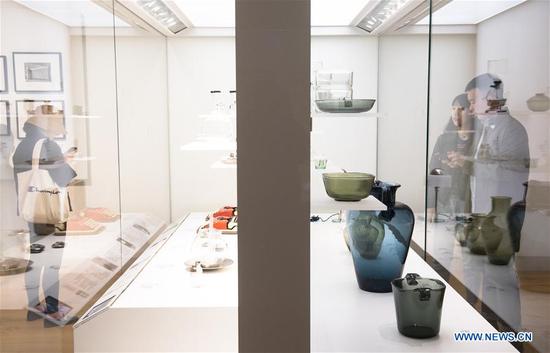 Visitors view a glassware exhibition at the China Design Museum in Hangzhou, east China's Zhejiang Province, April 8, 2018. Designed by Portuguese architect Alvaro Siza, the China Design Museum launched its first exhibitions when it was opened in Hangzhou on Sunday. With a floor area of 16,800 square meters, the museum is dedicated to the presentation and research of modern and contemporary designs while stimulating home-grown innovations. (Xinhua/Weng Xinyang)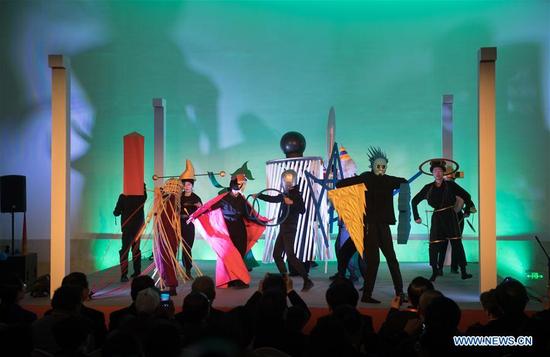 The audience watch a performance at the China Design Museum in Hangzhou, east China's Zhejiang Province, April 8, 2018. Designed by Portuguese architect Alvaro Siza, the China Design Museum launched its first exhibitions when it was opened in Hangzhou on Sunday. With a floor area of 16,800 square meters, the museum is dedicated to the presentation and research of modern and contemporary designs while stimulating home-grown innovations. (Xinhua/Weng Xinyang)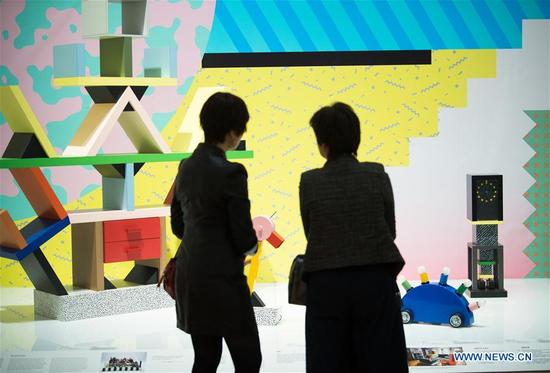 Visitors view a furniture exhibition at the China Design Museum in Hangzhou, east China's Zhejiang Province, April 8, 2018. Designed by Portuguese architect Alvaro Siza, the China Design Museum launched its first exhibitions when it was opened in Hangzhou on Sunday. With a floor area of 16,800 square meters, the museum is dedicated to the presentation and research of modern and contemporary designs while stimulating home-grown innovations. (Xinhua/Weng Xinyang)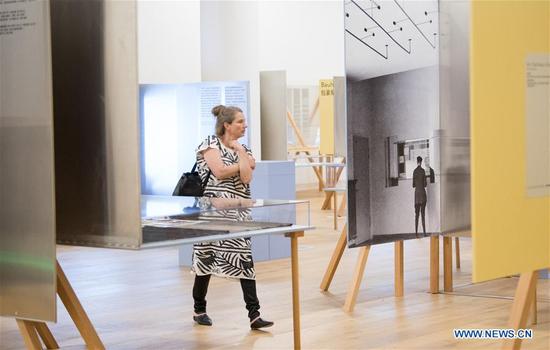 A visitor views a Bauhaus exhibition at the China Design Museum in Hangzhou, east China's Zhejiang Province, April 8, 2018. Designed by Portuguese architect Alvaro Siza, the China Design Museum launched its first exhibitions when it was opened in Hangzhou on Sunday. With a floor area of 16,800 square meters, the museum is dedicated to the presentation and research of modern and contemporary designs while stimulating home-grown innovations. (Xinhua/Weng Xinyang)
HANGZHOU, April 8 (Xinhua) -- An international design museum opened Sunday in Hangzhou, capital of east China's Zhejiang Province.
Covering 16,800 square meters, the International Design Museum of China includes design studios, a children's workshop and a roof garden.
Located on the Xiangshan campus of the China Academy of Art (CAA), it opened on the 90th anniversary of the founding of the CAA.
The triangular building was designed by Portuguese architect Alvaro Siza.
Yuan Youmin, deputy curator of the CAA gallery, said it was the country's first specialist design museum and was among the few professional design museums on such a large scale around the world.
On Sunday, five exhibitions opened, including one displaying Siza's designs.