Former Malaysian deputy PM Anwar released
2018-05-16 06:59:54 GMT
2018-05-16 14:59:54(Beijing Time)
Xinhua English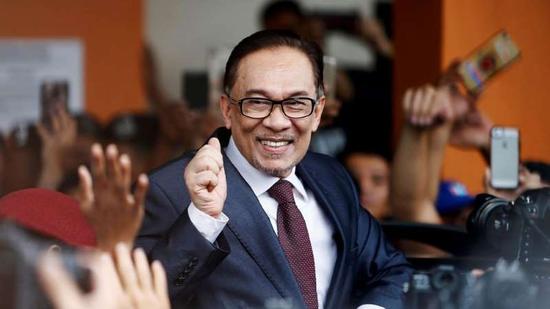 KUALA LUMPUR, May 16 (Xinhua) -- Anwar Ibrahim, former Malaysiandeputy prime minister who was jailed for a sodomy verdict, wasreleased on Wednesday after receiving pardon.
Witnessed by a large crowd of reporters and supporters, Anwarwalked out of a habitation center where he was receiving treatmentrecently under custody.
Anwar, 70, wearing a black suit and sporting a smile, waved tohis supporters before he boarded a car to go to the royal palace tomeet the King.
In a statement, the National Palace said Muhammad V, theceremonial head of state, or the King, has allowed a full pardonand given an immediate release for Anwar.
The full pardon also allows Anwar to return to politics.
Anwar was sacked as deputy prime minister in 1998 and laterjailed for corruption and sodomy under then Prime Minister MahathirMohamad. He was jailed again in 2015 for sodomy as oppositionleader. Anwar has denied the charges, saying they were politicallymotivated.
Since 2016, Mahathir and Anwar have joined hand again againstthe government led by Najib Razak. Their coalition, PakatanHarapan, won the general election last week.
Mahathir has been sworn in as prime minister and he has alsopromised to hand over to Anwar.