Del Potro 'filled with happiness' by Djokovic gesture
2018-09-12 02:57:40 GMT
2018-09-12 10:57:40(Beijing Time)
Xinhua English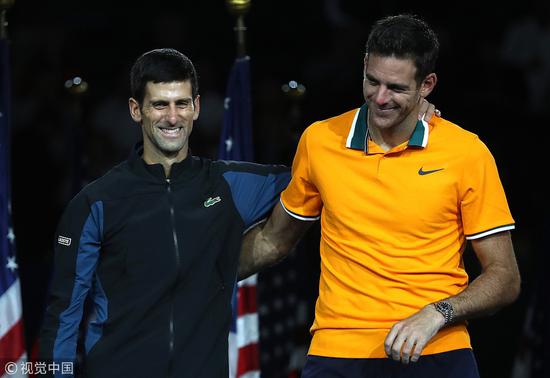 Juan Martin del Potro has expressed gratitude to his US Open conquerer Novak Djokovic for the Serb's spontaneous show of compassion after Sunday's final in New York.
Moments after his 6-3, 7-6 (4), 6-3 victory at Flushing Meadows, Djokovic walked across to Del Petro's court-side chair and comforted the Argentine with a hug and words of encouragement.
Del Potro, who has overcome a series of career threatening injuries since winning the 2009 US Open - his only grand slam to date - revealed what Djokovic said to him upon his return to Buenos Aires on Tuesday.
"It was a very nice gesture," Del Potro told reporters. "At the time it wasn't easy for him to go to the [opponent's] side to say a few words. He told me that I was a great champion, that I should be proud.
"Those words fill me with happiness. At that time I was not happy but now I think about them and it was a very nice gesture."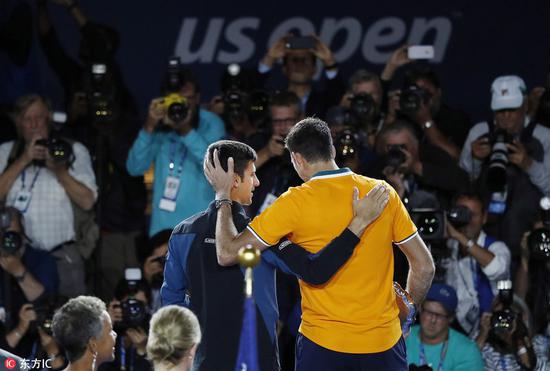 The 29-year-old added: "It makes me happy and it gives me pride because Nole is also a friend on the circuit. When I was at my lowest point while sitting on that chair, he told me I should be happy and proud. He said that it was inspirational for him that I was there with him on that stage."