Michelle Obama's "Becoming" becomes best-selling book of the year in U.S.
2018-12-03 02:21:03 GMT
2018-12-03 10:21:03(Beijing Time)
Xinhua English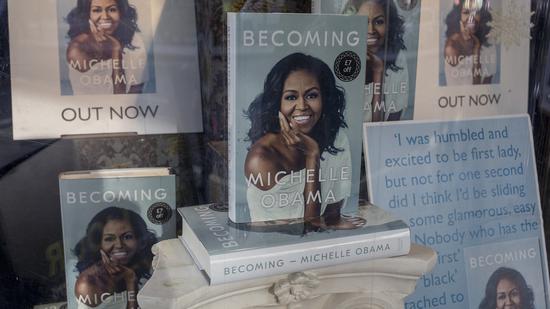 "Becoming," the memoir by former first lady Michelle Obama, has become the best selling book of the year in the United States, local media reported Saturday.
As many as 1,122,618 hardcover copies of Obama's uplifting memoir have been sold since its Nov. 13 release date, according to a CNN report, citing NDP BookScan data.
Obama's publisher, Penguin Random House, said Friday that the book "sold more than 2 million units in all formats and editions in the United States and Canada during the first 15 days of its publication."
Amazon's constantly-updated online list of best sellers of 2018 has also put "Becoming" at No. 1, followed by journalist Michael Wolff's "Fire and Fury" at No. 2 and Rachel Hollis' self help book "Girl, Wash Your Face" at No. 3.
The hardcover edition of "Becoming" is now up to six printings. By the end of the sixth printing, there will be 3.4 million copies in print in the United States and Canada, said the CNN report.