Manchester City crush Chelsea 6-0 to regain top position at Premier League
2019-02-11 06:52:42 GMT
2019-02-11 14:52:42(Beijing Time)
Xinhua English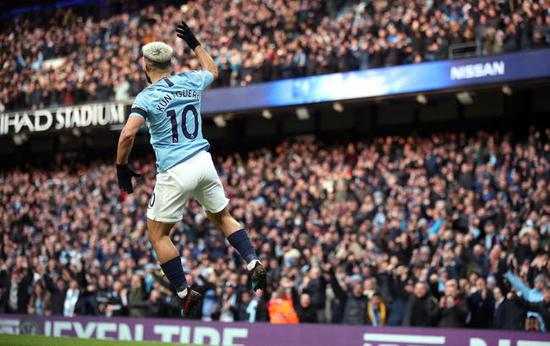 LONDON, Feb. 10 (Xinhua) -- Sergio Aguero scored a record-equalling hat-trick as Manchester City thrashed Chelsea 6-0 at Etihad Stadium on Sunday to return to the top of the Premier League.
The defending champions were ahead 4-0 just 25 minutes into the first half. Sterling opened the scoring in the fourth minute before Aguero unleashed a curling shot into the top right-hand corner from 25 yards.
Only six minutes later, Aguero followed the path of Ross Barkley's poor header back towards his own goal and span to knock the ball past Kepa Arrizabalaga to make it 3-0.
That made Aguero City's all-time leading goal-scorer with 159, passing Tom Johnson and Eric Brook who had sat there for more than 80 years.
In the 25th minute, Chelsea were 4-0 through Ilkay Gundogan's low shot from the edge of the box after Sterling's pass to Aguero had been poorly cleared by Antonio Rudiger.
Aguero completed his 15th hat-trick for City in the 56th minute, when he coolly rolled home a penalty earned by Sterling after he had been tackled by Cesar Azpilicueta.
It was also Aguero's 11th Premier League hat-trick, level with former Newcastle United legend Alan Shearer in pole position.
Sterling sealed the victory by scoring his second from the close range in the 80th minute, handing Chelsea their biggest loss since they was defeated 7-0 by Nottingham Forest in 1991.
City, who have played one more game, overtook Liverpool on goal difference to return to the top of the Premier League.
"It was one of our best performances at home this season," City manager Pep Guardiola said.
"We played really well, Sergio scored an incredible goal, but it wasn't easy, we defended deeper like never before.
"Six goals against Chelsea is not easy."
Liverpool will play their game in hand at Manchester United on Feb. 24, when City take on Chelsea in the League Cup final.
Tottenham secured the third place with a 3-1 victory over Leicester City at Wembley, moving back to within five points of the top and nine clear of fourth placed Manchester United.
Davinson Sanchez scored his first goal for Spurs before Hugo Lloris saved Jamie Vardy's 60th-minute penalty in what was the striker's first touch of the ball having just come off the bench.
Christian Eriksen then doubled the lead three minutes later but Leicester did pull one back through Vardy with 14 minutes remaining.
Son Heung-Min made it 3-1 in stoppage time.