Five-time champion O'Sullivan shocked by amateur Cahill at snooker worlds
2019-04-24 03:10:50 GMT
2019-04-24 11:10:50(Beijing Time)
Xinhua English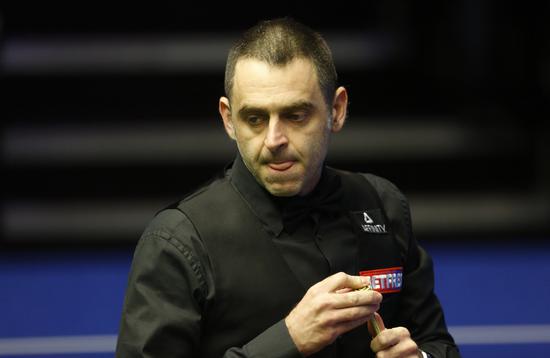 Ronnie O'Sullivan during the match against James Cahill in the first round of the world snooker championship in London on April 23, 2019. [Photo/Xinhua]
LONDON, April 23 (Xinhua) -- Five-time champion and world No. 1 Ronnie O'Sullivan suffered a shock defeat to amateur James Cahill in the first round of the world snooker championship here on Tuesday.
The 43-year-old, who won his fifth title in 2013, trailed 5-4 overnight, managed to pull even at 8-8 but finally went down to the 23-year-old Cahill 10-8.
It was the biggest upset in Crucible history considering that O'Sullivan has got a superb season heading into this year's event and that Cahill is the first ever amateur to compete at the Crucible.
O'Sullivan, competing in his 27th world championship, has been beaten in the first round since 2003.
The Rockets has won five of the 11 he has taken part in and regained the top position for the first time in nine years.
Cahill, who does not even have a world ranking, said: "I was a bit nervous when I went out there, but after that I settled really well.
"He was under a lot of pressure himself. He didn't want to lose to me and I'm just glad I managed to hold myself together and win at the end there.
"You've got to believe you can beat anyone. I've got a lot of respect for Ronnie, he is such a great player and is my idol really. But there's only so much respect you can have for these people, because at the end of the day you've got to go out there and beat them. If I had too much respect, then I probably wouldn't have cleared up at the end."
O'Sullivan said: "I just felt a little bit under the weather. My legs are like lead and my arms feel really heavy. I'm not making excuses, I just felt absolutely exhausted to be honest. I tried to do as much as I could, to hang in there and see if I could manage to somehow get through the match, and after I few days I might have felt better."