China's top political advisor meets Azerbaijani president
2019-04-25 03:02:44 GMT
2019-04-25 11:02:44(Beijing Time)
Xinhua English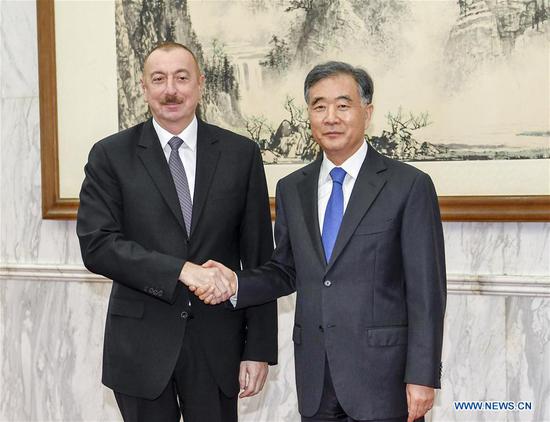 Wang Yang (R), chairman of the Chinese People's Political Consultative Conference National Committee, meets with Azerbaijani President Ilham Aliyev ahead of the Second Belt and Road Forum for International Cooperation in Beijing, capital of China, April 24, 2019. (Xinhua/Gao Jie)
BEIJING, April 24 (Xinhua) -- China's top political advisor Wang Yang on Wednesday met with Azerbaijani President Ilham Aliyev ahead of the Second Belt and Road Forum for International Cooperation to be held from April 25 to 27 in Beijing.
Hailing the long-term friendship between China and Azerbaijan, Wang, a member of the Standing Committee of the Political Bureau of the Communist Party of China Central Committee and chairman of the Chinese People's Political Consultative Conference National Committee, said that the two countries have continued to strengthen their mutual political trust and promoted cooperation in various fields in recent years.
"Azerbaijan was one of the first countries to respond to the Belt and Road Initiative, and cooperation between the two countries in various fields has seen a series of early harvest," said Wang, adding that China is willing to work with Azerbaijan to seize the great opportunity of jointly building the Belt and Road and deepen bilateral ties and cooperation in various areas to benefit the two countries and the peoples.
Aliyev also expressed the willingness of the Azerbaijani side to contribute to the implementation of the Belt and Road Initiative and promote the continous development of bilateral relations.