Xi meets Armenian PM
2019-05-15 00:46:21 GMT
2019-05-15 08:46:21(Beijing Time)
Xinhua English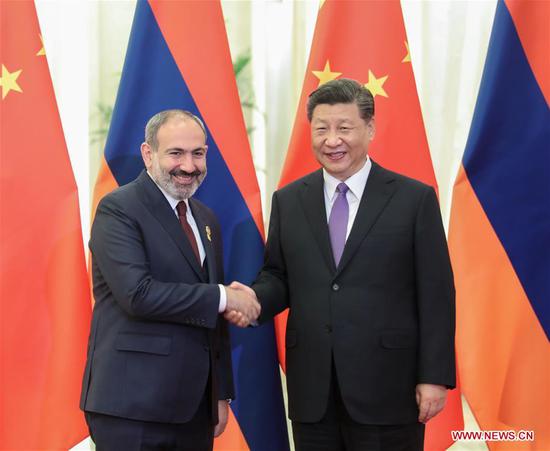 Chinese President Xi Jinping (R) meets with Armenian Prime Minister Nikol Pashinyan, who is in China to attend the Conference on Dialogue of Asian Civilizations (CDAC), at the Great Hall of the People in Beijing, capital of China, May 14, 2019. (Xinhua/Yao Dawei)
BEIJING, May 14 (Xinhua) -- Chinese President Xi Jinping on Tuesday met with Armenian Prime Minister Nikol Pashinyan, who is here to attend the Conference on Dialogue of Asian Civilizations.
Xi said China and Armenia, both having a long history of civilization, should promote mutual learning that will serve as a strong support for consolidating long-lasting friendship between the two countries as well as jointly building the Belt and Road, to inject new impetus into regional cooperation and development.
China stands ready to push forward bilateral cooperation and achieve more tangible results in various fields including trade and investment, mining, metal smelting, renewable energy as well as infrastructure construction, said Xi.
The two sides should strengthen cooperation on anti-terrorism, law enforcement and security, and jointly combat "three forces" of terrorism, separatism and extremism, Xi said.
Pashinyan said Armenia treats bilateral relationship from a strategic perspective and is willing to actively participate in the joint building of the Belt and Road.
Armenia is firmly committed to fighting terrorism, he added.