Senior official calls for deepening belief among Party cadres
2019-05-16 02:12:21 GMT
2019-05-16 10:12:21(Beijing Time)
Xinhua English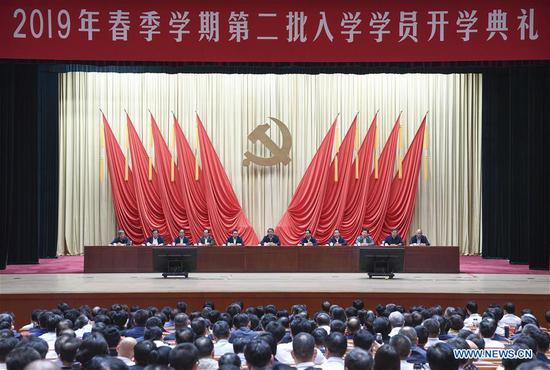 Chen Xi, a member of the Political Bureau of the Communist Party of China (CPC) Central Committee and president of the Party School of the CPC Central Committee, attends the opening ceremony of the school's 2019 spring semester for the second intake of students in Beijing, capital of China, May 15, 2019. (Xinhua/Zhang Ling)
BEIJING, May 15 (Xinhua) -- Senior Communist Party of China (CPC) official Chen Xi on Wednesday called for conscientious efforts to maintain deep belief in and faithfully practice "Xi Jinping Thought on Socialism with Chinese Characteristics for a New Era."
Chen, a member of the Political Bureau of the CPC Central Committee and president of the Party School of the CPC Central Committee, made the remarks while attending the opening ceremony of the school's 2019 spring semester for the second intake of students.
He asked for in-depth studies to strengthen beliefs and conviction in Marxism, socialism with Chinese characteristics and the Chinese Dream of national rejuvenation as well as to forge a keen sense of responsibility.
Chen also stressed fighting formalities for formalities' sake and bureaucratism and called for maintaining moral integrity.