Ancient city wall discovered in Chengdu
2019-05-22 02:44:24 GMT
2019-05-22 10:44:24(Beijing Time)
Xinhua English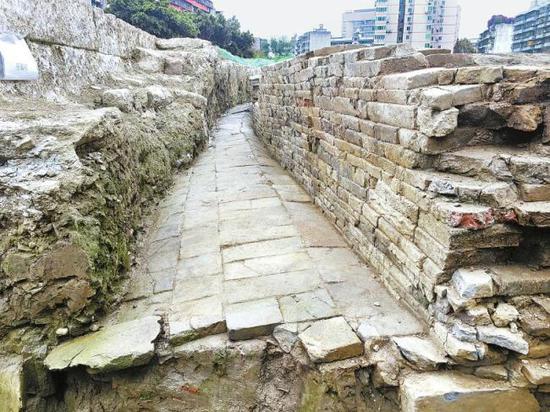 An ancient city wall dating back to the Tang Dynasty (618-907) is discovered in Chengdu, Sichuan Province. [Photo: sc.gov.cn]
CHENGDU, May 21 (Xinhua) -- Cultural researchers have recently discovered an ancient city wall dating back to the Tang Dynasty (618-907) in Chengdu, southwest China's Sichuan Province.
According to Chengdu cultural heritage and archaeology institute, the relics was excavated at a construction site. Experts confirmed the building time of the wall, stretching east to west for about 170 meters, based on the study of its bricks and structure.
The section of the wall, which is about 1.5 meters high and 8.9 to 12 meters wide, was originally built in Tang but underwent renovation in the Ming Dynasty (1368-1644) and Qing Dynasty (1644-1911).
According to Jiang Tao, an expert in charge of the excavation, the wall was built by famous Tang Dynasty general Gao Pian. Gao led the building of the wall to protect the ancient city of Chengdu when he was guarding the area.
The ancient wall is of great value for the study of urban construction and the social and economic structure in ancient time, Jiang said.