Greek opposition party leader calls PM to quit after result of European elections
2019-05-27 01:54:32 GMT
2019-05-27 09:54:32(Beijing Time)
Xinhua English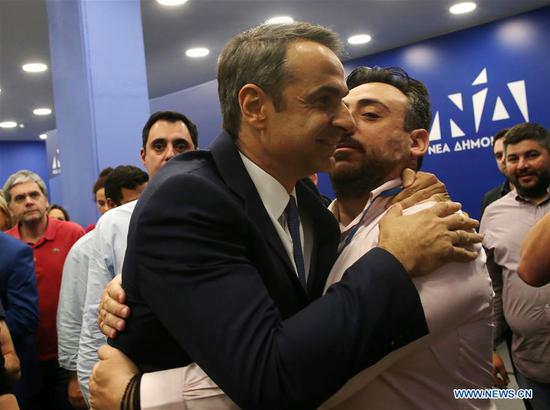 Greek main opposition New Democracy party leader Kyriakos Mitsotakis (Front) is greeted by a supporter in Athens, Greece, on May 26, 2019. Greek main opposition conservative New Democracy (ND) party leader Kyriakos Mitsotakis called Greek Prime Minister Alexis Tsipras to quit so that Greece will be led to early national elections, after the results of the European parliament and local parliament elections on Sunday. (Xinhua/Marios Lolos)
ATHENS, May 26 (Xinhua) -- Greek main opposition conservative New Democracy (ND) party leader Kyriakos Mitsotakis called Greek Prime Minister Alexis Tsipras to quit so that Greece will be led to early national elections, after the results of the European parliament and local parliament elections on Sunday.
ND wins the European parliament elections with 32.7 percent of votes against 24 percent for the ruling Radical Left SYRIZA party, according to estimates based on the first official results announced on national broadcaster ERT.
"The change I had been talking throughout the pre- election campaign has already started. The Prime Minister must assume responsibility. He should resign and the country must be led to national elections," he said in a televised statement.
The government's term expires in October this year.
With about 10 percent of the votes counted nationwide, according to the early projections issued by the Interior Ministry, six parties will most probably send representatives to the European parliament, clearing the three percent threshold needed under Greece's electoral law.
The centrist Movement for Change (KINAL) wins 7.8 percent of votes, the Greek Communist Party (KKE) ranks fourth with 5.6 percent and the ultra- Right Chryssi Avghi (Golden Dawn) garners 4.8 percent of votes.
A new Right-wing party, the Greek Solution, wins 4.2 percent of votes, according to the projections.
A statement by the Premier was expected later on Sunday evening.
The conservatives noted that after the 2014 European elections when SYRIZA had won ND by 26.6-22.7 percent of votes Tsipras had asked for snap polls.
An ND party statement reminded that during this pre-election campaign the Greek leader himself had asked for a vote of confidence in his government's policies.
According to estimations based on the first official results candidates supported by the opposition have also taken a strong lead in most races for the election of regional governors, regional councilors, mayors and municipal councilors throughout Greece. A second round of local elections will be held next Sunday.
The final official results for the European parliament elections and the first round of local elections are expected Monday.