Yao Foundation striving to encourage Chinese teenagers to enjoy basketball
2019-08-05 01:55:15 GMT
2019-08-05 09:55:15(Beijing Time)
Xinhua English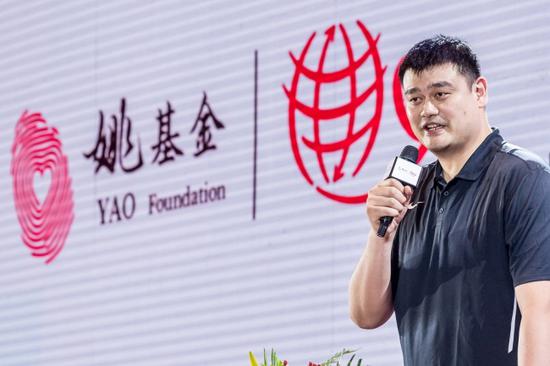 Retired Chinese basketball star Yao Ming, chairman of the Chinese Basketball Association (CBA), attends a forum for the 2019 Yao Foundation Charity Game in Nanning City, Guangxi Province, China, August 4, 2019. [Photo: IC]
NANNING, China, Aug. 4 (Xinhua) -- Former NBA star Yao Ming said on Sunday that the primary aim of his Yao Foundation, which introduced a basketball season to Chinese primary schools in 2012, is to motivate children in the country to enjoy basketball.
"Some of the children who play in our basketball season have been selected and admitted to professional sports schools, and our program covers a wide range of schools across China, so there is no doubt that some players will show their talents in basketball," Yao said.
"I am not opposed to sports schools or basketball clubs coming here to select talented players, but I have to emphasize that I hope our basketball program can enrich children's extracurricular activities, motivate their interest in basketball, and help them enjoy the sport," the former NBA all-star added.
Set up in 2008, the Yao Foundation is a charity focusing on sports and education. It raises funds through the "Yao Foundation Charity Tour" to promote the development of physical education in China's rural regions.
The basketball season is a public welfare program launched by the Yao Foundation in 2012. Over a period of around three months, the foundation sends volunteers to more than 500 schools across 25 Chinese provinces to teach basketball and physical education. The Yao Foundation also donates basketballs and other sporting equipment to schools.