Premier Li stresses stabilizing employment
2019-08-20 02:22:47 GMT
2019-08-20 10:22:47(Beijing Time)
Xinhua English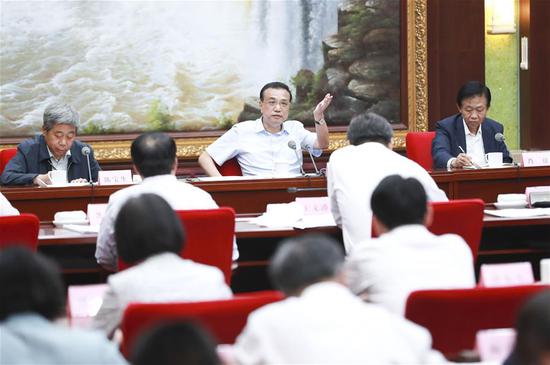 Chinese Premier Li Keqiang, also a member of the Standing Committee of the Political Bureau of the Communist Party of China (CPC) Central Committee, presides over a symposium on stabilizing employment in Harbin, capital of northeast China's Heilongjiang Province, Aug. 19, 2019. (Xinhua/Pang Xinglei)
HARBIN, Aug. 19 (Xinhua) -- Premier Li Keqiang on Monday stressed the importance of stabilizing employment while presiding over a symposium in Harbin, capital city of northeast China's Heilongjiang Province.
Employment is pivotal to people's wellbeing. Governments should realize the arduousness of job creation and put stable employment at a more prominent position, Li said.
A total of 8.67 million new urban jobs were created during the first seven months of the year, he said, calling it a hard-earned achievement.
The premier called for attention to the fact that the surveyed urban unemployment rate rose in July.
Every year, about 15 million urban people pour into the job market and 3 million rural workers try to find jobs in cities, he said.
Local governments should give high priority to employment and implement an employment-first policy, striving to achieve fuller employment and promote high-quality economic development, Li said.