Hong Kong court denies bail to suspect involved in assaulting reporter
2019-08-20 02:13:36 GMT
2019-08-20 10:13:36(Beijing Time)
Xinhua English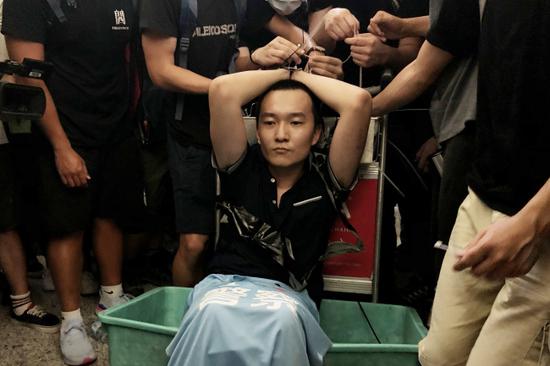 HONG KONG, Aug. 19 (Xinhua) -- A Hong Kong court on Monday denied bail to a man involved in assaulting a reporter from the mainland during a recent unlawful assembly at the Hong Kong International Airport.
The Eastern Magistrates' Court adjourned the case, in which the male, 19, was accused of unlawful assembly, wounding and assault occasioning actual bodily harm, to Oct. 28 for further police inquiries.
The man, surnamed Lai, was suspected of assaulting Fu Guohao, a journalist from Global Times, during the violent incident that occurred in the wee hours of Aug. 14 at the Hong Kong International Airport.
The prosecutor stressed the severity of Lai's violent acts as he continued the assault even after ambulance attendants had put Fu on a stretcher. Lai had been bailed after being arrested for charging the police line during a protest on July 14 at New Town Plaza in Sha Tin District and was due on court on Friday.
The defendant is likely to commit another offence at a major public event in the future, the prosecutor said.
During a press briefing of the Hong Kong police on Monday, Kong Wing-cheung, senior superintendent of police public relations branch, said anyone who willfully commits violent acts at an international airport that endangers, or likely to, the safety of the airport or of other people faces a sentence of life imprisonment.
Kong said a total of 178 police officers had been injured since June 9.