3 economists share Nobel Economics Prize for work on poverty
2019-10-15 02:13:48 GMT
2019-10-15 10:13:48(Beijing Time)
Xinhua English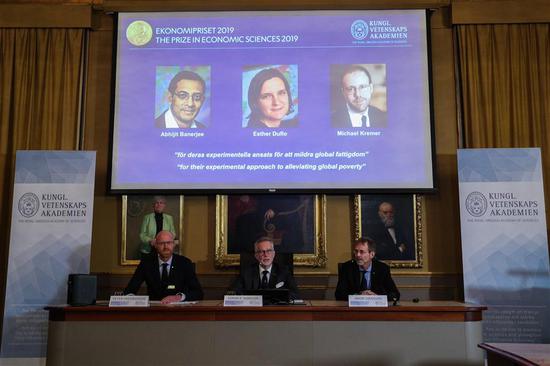 The photos of the winners of the 2019 Nobel Prize in Economics are seen at the Royal Swedish Academy of Sciences, Stockholm, Sweden, Oct. 14, 2019. The 2019 Nobel Prize in Economics has been awarded to Abhijit Banerjee, Esther Duflo and Michael Kremer "for their experimental approach to alleviating global poverty," the Royal Swedish Academy of Sciences announced Monday. (Xinhua/Zheng Huansong)
STOCKHOLM, Oct. 14 (Xinhua) -- The 2019 Nobel Prize in Economics has been awarded to Abhijit Banerjee, Esther Duflo and Michael Kremer "for their experimental approach to alleviating global poverty," the Royal Swedish Academy of Sciences announced Monday.
Banerjee, born 1961 in Mumbai, India, is now a professor at the Massachusetts Institute of Technology (MIT) in the United States. Duflo, born 1972 in Paris, France, is also a professor at the MIT. She is the youngest person ever and only the second woman to receive the economics prize. Kremer, born 1964, is a professor at Harvard University in the United States.
According to a press release here, the research conducted by this year's Laureates has considerably improved our ability to fight global poverty.
In just two decades, their new experiment-based approach has transformed development economics, which is now a flourishing field of research, said the press release.
The prize amount is 9 million Swedish krona (about 910,000 U.S. dollars), and it will be shared equally among the Laureates.